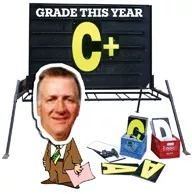 2010 grade: C+
2009 grade:
C-
2008 grade
: D
2007 grade
: C+
Last year, Jim Smith tried to escape council by throwing his hat in the NDP's North Dartmouth riding contest for the provincial MLA seat, and got soundly trounced by the sitting MLA, Trevor Zinck, who was subsequently tossed out of the NDP caucus amid allegations of ripping off both the public generally and one specific handicapped person, and who now appears to the subject of a RCMP investigation. The incident suggests maybe we ought take Smith more seriously.
Smith's got a sort of shuffling, mumbling aw-shucks manner that masks pretty decent political views, for the most part. But his inability to express those views in a convincing or, sometimes, even coherent way, does him a disservice. I mean it when I say I like Smith---and it's precisely his vexing mix incoherency and decency that makes him so endearing, even if politically he's out in the woods, looking at mushrooms.
Sigh. OK, look: he drew a line in the sand and voted against "tax reform." He should be rewarded.