"I like strange cultural products and mass produced stuff," says Mitchell. In his industrial studio space above the Halifax Army Navy Store, Mitchell surrounds himself with VHS tapes, broken electronics, dusty Fisher Price toys and a selection of his completed work.
Mitchell uses found objects to create installation pieces. "I conceptualize ways to fix things and alter them," says Mitchell as he looks down at a broken flat-screen TV mounted horizontally on wheels. He taped a real fire on a video cassette and plays it through the broken unit. "It's a kind of fake fireplace," he explains, as the crackling and snapping sounds of burning logs mix with the visual of fragmented, digital flames. "I'm really into the idea of fake relaxation."
Mitchell's art offers a range of cultural commentary, personal reflection and contrivance. At his graduation show this past August in the Anna Leonowens Gallery, Mitchell exhibited constructed pieces with intimate origins.
Mitchell was inspired by childhood events, by images that stuck in his head. He explains how, when he was a child, older kids teased him with tall tales of satanic rituals occurring in a graveyard near his home. These scary stories haunted his perception and for awhile every object he encountered seemed to adopt a sinister quality. "It interests me how day-to-day objects, domestic objects, become threatening and bizarre, how they change their meaning and morph so quickly. I've always been really interested in that---how it can happen so easily," he says.
Mitchell explains how the red bench that straddled the fire pit where he heard the frightening stories became a kind of horrible altar and something as mundane as a macrame elephant his mother made became a terrifying entity. Mitchell reconceptualized his image of the red bench by combining painted glass, coloured foil and wooden framing in a stylized and symbolic triptych flanked by images of giant candles. He reconceptualized the macrame elephant into a macrame diptych with giant, black, abstract eyes.
"I'm really into symbology," says Mitchell. "I'm really into all symbology."
View more of Jesse Mitchell's work here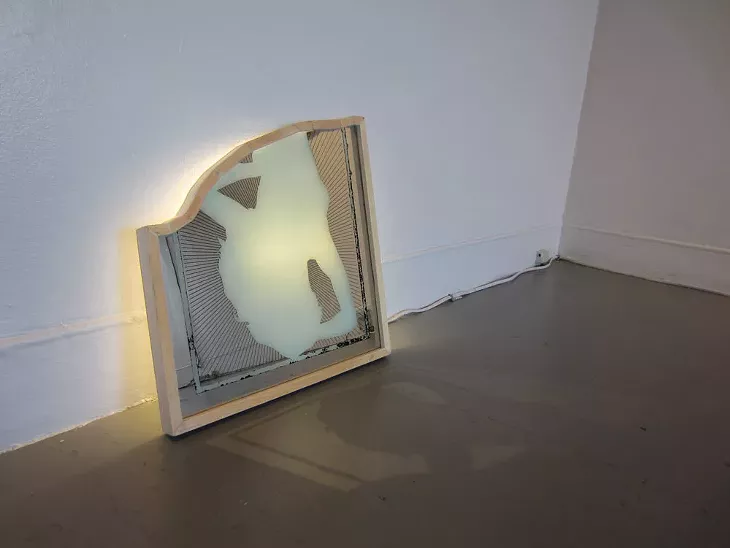 7 slides