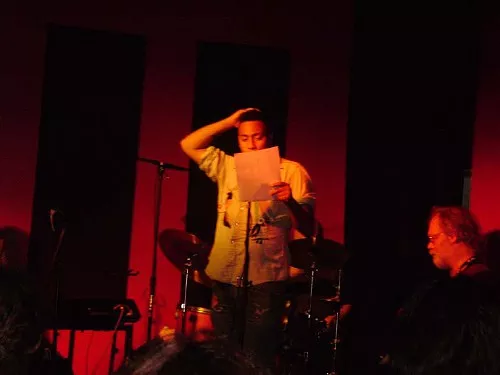 Cadence Weapon brings dirt city to Halifax.
The evening flowed steadily, despite the heat.
Four poets laureate from across Canada took to the small stage in front of a crowded Company House. (Seats at the bar and tables taken, several people stood and leaned against the walls.) Two ceiling fans and another on the floor by the Jazz Festival kiosk at the door did little to alleviate the humidity indoors, but added, at most, to the atmosphere.
Hosting the night, HRM poet laureate, author, singer and spoken word artist Shauntay Grant heralded it (and the performances the night before, on Wednesday at the same venue) as an experiment, a test of resolve and ability to take a risk by her colleagues in verse. Her experience on stages showed as she pretty much maintained the flow between poetic and musical sets. Other than that, she let others shine.
Vancouver's poet laureate, Brad Cran, joined the band (Silvio Pupo on piano, Tom Roach on drums, Jamie Gatti on bass and Rob Crowell on sax) first. Cran's tall, a big, bald guy with heavy, dark-rimmed glasses. He sweat it out, stumbling a little as he tried to find footing with the musicians, which was also trying to settle into a suitable tempo, rhythm and melody. In fairness, of course, this was their first shot. Poet and musicians hadn't rehearsed.
Cran and musical company found their groove during the final piece "2010 Handbook for Entering Canada," a comical, critical poem posing a series of questions as though spoken by a meta-border guard: "Have you visited a farm in the last 30 days?" "Do you approve of product placement in movies?" "Do you like my uniform?" And so on. The poem was written in response to the refusal of some media from entering Canada to cover the Vancouver Olympics to preempt their critical points of view, Cran explained.
The interrogative nature of "Handbook" allowed Cran to speak his part and for the band to fill in the spaces in between so that a conversation took place.
Agnes Walsh, inaugural poet laureate of St. John's, went up next and declared she was going to do some "political" poems, but she changed her mind last minute because, as she said, "It's too fucking hot."
The band tried to match her short, sharp lines as best they could, spacing out beats and playing single, sustained notes (somewhat of a fallback position assumed throughout the evening). But the gentility that hides an edge in Walsh's voice frequently got lost in this setting. Her writing tends to flutter down, feather-light, but often land with an unexpected weight, a thud that wakes the listener up. (If one even got a sense of this from Thursday night, it's worth checking out Walsh's books, especially 2007's Going around with Bachelors.)
Poet laureate of Cobourg, Ontario—a community roughly 100 clicks east of Toronto on the shores of Lake Ontario—Jill Battson came next and appeared most mindful of the event's inclusion in a jazz festival. With her English (exactly where in England went undetected by this reviewer) accent, Battson delivered the first performance of the night, often going without glance at the text (a notebook or published volume). Sensing Battson's confidence, pianist Pupo, who directed the band, led his cohorts into a more strenuous, vigorous gear.
Battson brought the link between jazz and poetry closest to the fore. She broke from more lyrical lines into abstractions that didn't always hold the listener's attention. But the melodic quality of her voice engaged as a sound, an instrument; even the band paused from playing to allow Battson to carry the music, to solo herself. She presented one poem from a 19-part cycle, a forthcoming work called Dark Star Requiem. It evoked the hour of death from both sides of the experience and hints at a project that'll be worth reading in full.
The evening flowed to its inevitable end. The weight of expectation rested in large part on Roland Pemberton's shoulders. Also known as rapper/producer Cadence Weapon, the poet laureate for Edmonton wore a partial mohawk, a shit-eating grin and a shirt that his grandfather (his namesake Roland, Rollie Miles, a former player with the CFL's Edmonton Eskimos) used to own. The shirt was a cross between western, cowboy wear and tropical, beach wear.
Pemberton mythologized two trades (Gretzky, naturally, and Ryan Smyth) in Edmonton Oiler history and did it in a way that called up voices and characters and the importance of sports in culture—-something not often done enough in contemporary literature, whether poetry or prose. But Pemberton, like Randall Maggs did with Night Work — The Terry Sawchuk Poems recently, shows it can and perhaps should be done.
The band riffed off Pemberton's confidence—-evident in some snappy physicality, bordering on dance moves and the piss-take smile—-using more of the electric-piano and solid funk they'd employed here and there throughout the evening.
In "Dirt City," the name Pemberton and his circle of friends have given Edmonton, he mythologizes his hometown, its physical and cultural geography, and gives layers of imaginative life and energy. He wanted to write an "epic" and it certainly came off that way, right down to the last line feel and he proclaims, "In Dirt City, you can see yourself!" Or maybe it was "...be yourself." Either way, it had dramatic effect as the poet and band stopped on the same beat, as though they'd rehearsed.
The night succeeded because everyone gave it a shot, an honest try. Even a group of Shauntay Grant's friends, "amazing poets," she called them (she also dubbed them "the table beside the post," or maybe it was "pillar") produced a piece. They passed around a page, each person adding a line without seeing the accumulated work. A couple guys from the group went up to present the work, with one dancing, and another, Andrew Abraham, delivering the lines to the music, without missing a beat.