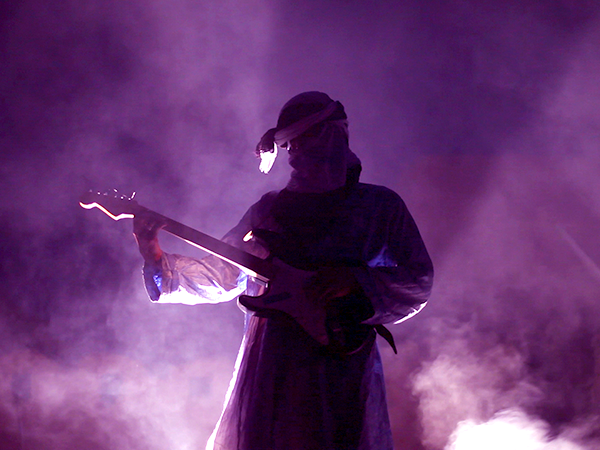 You think you know how African music sounds: You still know the words to K'naan's last hit and your record collection includes Mumford and Son's Johannesburg EP. Drips of the continent's varied music land on your eardrums, but what you don't know, yet, is that there's an African rock star whose loose, noodling guitar is about to rip a faucet wide open on your head.
Niger's Mdou Moctar spent the early 2000s climbing the staircase of fame through Africa's pirate mp3-sharing network, while we were loserish-ly stealing Nickleback or Avril Lavigne. His lush soundscapes are worlds within themselves, earning him fans in the likes of music critics at NPR and bands like Wilco. When he arrives at Jazz Fest Thursday night, it'll be with a sound that engulfs, drawing parallels in your brain to the most dexterous Jimi Hendrix or Eric Clapton riffs.
But Moctar's influences lie elsewhere, in the traditional Tuareg music of his childhood in the village of Tchintabaraden, on the edge of the Sahara in Niger.
"I love the music but my mother is very, very religious. She never listened to the music at all, ever," he recalls of his childhood. The familiar part of his origin myth rings true: After seeing famous Nigerien musician Abdullah Oumbadougou playing in Tchintabaraden, "I was very, very, happy. I see him and think 'I need to be like him.'"
It was as a teen that Moctar gained an audience, playing soft, acoustic ballads at the elaborate picnics he and his friends would throw in the desert: "That was the place where the young generation love what I play. It was crazy—you can't imagine how good it is to play with your friends and dance together. Just the music and the friends, that's my paradise."
These days, touring behind 2019's Ilana (The Creator), feel far away from those desert evenings—in part because Moctar's sound has grown into the tangles and snarls of electric guitar pulsing under Tuareg guitar's traditional softness.
As he sees it, the evolution is to be expected.
"All the time, I change the sound because I am curious. All the time, I need to try something because I'm curious about what can happen," he says. "The next album? I don't know what it will sound like—because I am curious."