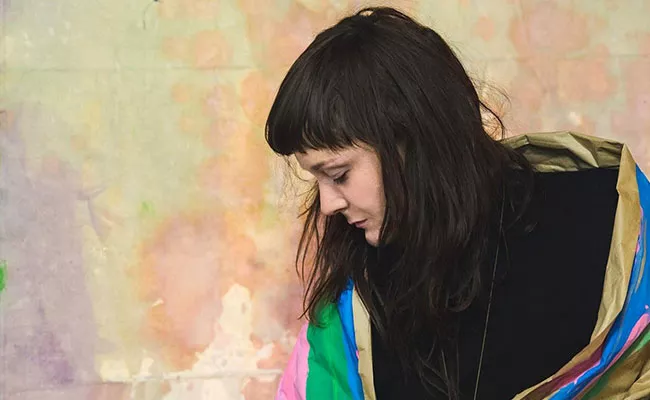 Land of Talk Thursday, July 12, 7pm St. Matthew's United Church $35
Elizabeth Powell doesn't have it all figured out, but she sure is trying. The frontperson of acclaimed indie outfit Land of Talk has just returned from a morning run when she answers the phone, full of energy and new revelations.
"I had another total aha! moment this morning when I was like 'Wait a minute, I don't have to attach an emotion to a thought?' It blew my mind," she says with a laugh. "I know that might be simple or it might not, but to me it was like an epiphany! It might help me with carrying a lot of people's hearts."
It makes sense that Powell—who has long written vulnerable lyrics in a delivery that's equal parts Stars melancholy-pop and Pixies-style brash—would be living in a feelings-first world, for as she puts it, most of her songs "bring me back to myself, not in a nostalgic sort of way, but I truly believe it's a process for me in a self-development way. It's sort of like journalling."
But, with a new record heralding her second return to music after swearing off the industry yet again (the first time after severe vocal polyps, more recently after an intense bout of burnout), she's finding magic and song in the pursuit of balance.
"I was thinking about this today on my run. I think I was quitting and coming back because I had my approach all wrong. I think I, like most people, need a well-rounded approach and because of the nature of the music industry I was lacking balance," she says. "You wear your heart on your sleeve for a year and then you just come home. So now, instead of just being like 'I'm back! I'm gone! I'm back! I blew out my vocal cords!,' those were all more extreme, ambitious efforts and I'm now realizing I may never have to quit again: I just might not be the musician who releases a record every year because that's not for me."
The album, Life After Youth, reflects her new space in life: Slightly softer and poppier than previous Land of Talk offerings and relying on a base of synth loops Powell built on her laptop, it's full of early morning sunshine and a guarded heart's reserved willingness to risk again. Case in point: The track "This Time" which sees her make a slow-burn, melodious mantra of the line "I don't wanna waste it this time."
As she prepares to bring the record to the Halifax Jazz Festival on July 12 at St. Matthew's Church, it feels like after youth, life does indeed get better. "It's kind of like a homecoming, being back in the studio—a coming back to centre and reunion with all my buddies," she says. Drummer "Bucky [Wheaton] was the one who put the idea in my head that we should make that record we always wanted to. He started the band with me and then he had to take off almost right away and never got to tour with the band, so this is sort of a second lease on Land Of Talk's life. We built it from the ground up and that's how it's always been. Bucky's the heart of the band, because he keeps the beat."
And while Powell promises the coming year will bring more new work to light, she adds she won't be quitting music any time again soon: "I think I'm just being a little bit more grown up. I'm trying to learn from my past, to keep a balance. Now I feel like I'm not really gonna need to disappear to find myself again."