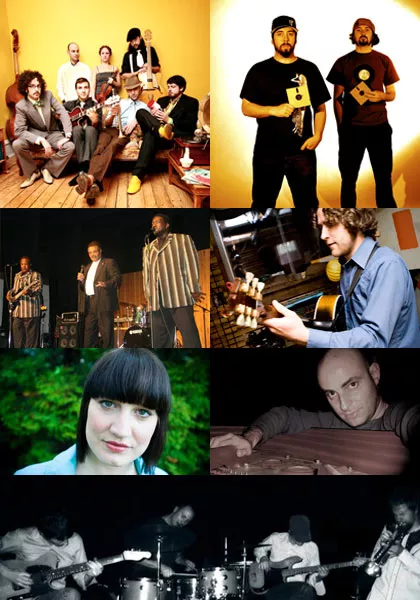 The Extremities, De La Soul, Ali Shaheed Muhammad
Friday, July 9, 8pm
Festival Tent, Spring Garden Road at Queen Street, $30-$33
Halifax duo Fresh Kills and Uncle Fester warm up the crowd with a set sure to please jazz freaks and hip-hop heads. Then we'll put on our old Nike Dunks for De La Soul and DJ Ali Shaheed Muhammad, formerly of A Tribe Called Quest.
André Leroux Quartet
Saturday, July 10, 11:15pm
Stayner's Wharf Pub & Grill, 1781 Upper Water Street, $15
It's not a jazz festival unless you do one late night at a proper jazz club. Tonight we have the hard-bop sounds of André Leroux's saxophone.
Gospel Afternoon
Sunday, July 11, noon-5pm
Festival Tent, free
Prepare to be uplifted, thanks to sun, beer and an afternoon of gospel with Reeny Smith (noon), Nova Gospel Ensemble (1:15pm), Hallelujah Praise Choir (2:30pm) and The Sanctified Boys (3:45pm).
Erin Costelo
Monday, July 12, 3:45pm
Festival Tent, free
That smoky voice can fill a late-night club like no one's business, but Erin Costelo soars in the out-of-doors, too. The Halifax vocalist and pianist is up for a Galaxie Rising Star award, vote for her at galaxie.ca.
Spontaneous Combustion II: The Orchestra
Tuesday July 13, 8pm
Neptune Studio, 1593 Argyle Street, $14.50-$19.50
Each show in the series features a different section of the orchestra. Tonight, they meet all together for the first time. Look for the high master of the sticks, Jerry Granelli, joined by his son J. Anthony, Dani Oore, Jeff Torbert and more.
Free Verse + Sageev Oore, Dani Oore, Chris Tarry
Wednesday, July 14, 9pm
The Company House, 2202 Gottingen Street, $15
It's like peanut butter and jam: Halifax's poet laureate Shauntay Grant hosts her fellow laureates from around the country for two evenings of poetry and jazz, as part of the 2010 Poet Laureate Summit. Tonight Grant and the gypsy-jazz dreamboats are joined by Hugh MacDonald (PEI), Pierre DesRuisseaux (Canadian Parliamentary), Ann Margetson (Cobalt) and Linda Rogers (Victoria).
Boom Pam, Gypsophilia
Thursday, July 15, 8pm
Festival Tent, $20-$25
"Mediterranean surf rock tuba-driven power trio, seasoned with duelling guitars and alcohol-soaked wedding party ecstasy?" This Tel Aviv garage rock band had us at tuba. Gypsophilia contributes to the sweat, and some of the best and worst dancefloor moves you're likely to see in the crowds this week. Bring comfortable shoes.
Free Verse + Silvio Pupo, Jamie Gatti, Tom Roach
Thursday, July 15, 9pm
The Company House, 2202 Gottingen Street, $15
The second night of jazz and Canada's poet laureates, tonight hear words from Jill Battson (Toronto), Brad Cran (Vancouver), the fierce Agnes Walsh (St. John's) and Roland Pemberton (Edmonton), who you may know better as that guy called Cadence Weapon.
Inhabitants, Jeff Torbert Quintet
Friday, July 16, 10:30pm
The Seahorse Tavern, 1665 Argyle Street, $14.50-$19.50
The noisier side to experimental jazz, fans of Halifax's Obey Convention may want to check out this Vancouver-based instrumental improv quartet. And you can't go wrong with guitarist-keyboardist Jeff Torbert.
Afro Musica, Salsa Picante
Saturday, July 17, 8pm
Festival Tent, $14.50-$19.50
Say goodbye to the Spring Garden Festival Tent in what will probably be known as the biggest, most danceable wake this city has ever seen, thanks to crowd-pleasing favourites, Afro Musica and Salsa Picante.