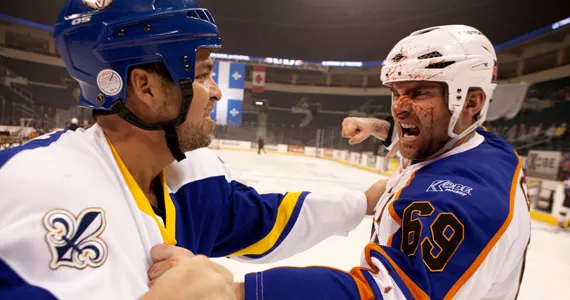 Slap Shot casts a long shadow. The 1977 hockey comedy starring Paul Newman, directed by George Roy Hill, is widely considered to be the best hockey movie ever. Not that it has a lot of competition.
"There needs to be a good hockey movie done by Canadians," says director Michael Dowse. "It's been awhile, if ever. Slap Shot is the holy grail. We never hoped to take that crown, but we wanted to be worthy of it."
Goon is Canadian down to its maple leaf underpants; directed by Dowse---who was born in Ontario---and written by Vancouver's Evan Goldberg (Superbad) and Montrealer Jay Baruchel, who also produces and co-stars. The story is very loosely based on the autobiography of a minor-league player, with Seann William Scott starring as Doug Glatt, a Jewish-American bouncer-turned-hockey enforcer who moves to Halifax---yes, Halifax---to join a Mooseheads-esque team, protect the Quebecois star Xavier Laflamme (Marc-André Grondin) and maybe fall for a local lady (Alison Pill). Liev Schreiber is Ross Rhea, a veteran fighter in the league and Eugene Levy plays Doug's disapproving father. Baruchel is Doug's foul-mouthed buddy.
"My knowledge and understanding of all things hockey, and quite specifically of hockey enforcing is through my father," says Baruchel, whose dad played on an all-Jewish hockey team in Quebec. "He was a first-generation Canadian and he fought from a very early age. His knowledge of that was inseparably connected to his immigrant Canadian identity."
Baruchel, along with Goldberg and Seth Rogen, is part of a wave of Canadian talent working here and in the States. He considers telling Canadian stories part of his mission statement in life, so while he's been starring in Hollywood fare such as Tropic Thunder and She's Out of My League, he's also been making Canadian pictures like The Trotsky and Chaz Thorne's Just Buried. Doing a hockey movie made all kinds of sense to him.
"Without getting too grandiose," he says, "we wanted to give Canadian kids the movie we think they've been waiting for." And if the kids have been been looking for broad, politically incorrect comedy and some convincing on-ice action, Goon delivers.
"The way it turns out in the movie is a testament to Michael Dowse as a director," says Baruchel, who says they wanted to be sure it worked as a sports movie as well as a comedy. "This has to have fucking teeth. It has to have heart. And it has to be every bit as fast and mean and elegant and beautiful and terrifying---all the myriad emotions that one experiences when watching and playing hockey."
What it doesn't have, unfortunately, is a lot of accuracy in the depiction of Atlantic Canada. Doug buys a case of beer at a convenience store and Ross smokes in a late-night diner in a strangely planar St. John's. "That's the problem with having Montreal writers," says Dowse, chuckling. But it isn't just a Montreal prism: aside from a few establishing shots, Goon was filmed in Manitoba. Why set a movie in Halifax and not shoot it here? Mark that one up to the vagaries of film financing, says Baruchel, whose mother's side of the family are actually from the Halifax and Truro area. "I couldn't sever the connection to the Maritimes," he says, but adds that "there was a location in the script we had to get rid of, because Winnipeg doesn't have an answer to Pizza Corner."