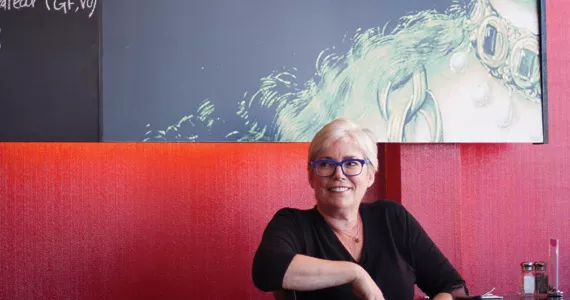 "It's true," Jane Wright says, confirming the rumours that have been swirling for weeks. Jane's on the common, her namesake restaurant at 2394 Robie Street, is closing. "It looks like we will be serving our last meal at jane's New Year's Eve."
Jane's had only been open for eight months when I first sat down to chat with Wright, shortly after her Coast Best of Food win for Best New Restaurant in 2004. It was the first of many such awards that jane's was to garner over the next eight years as the little restaurant that could consistently set the bar for food and service.
Wright looks back and laughs. "I really didn't think we'd be open a year," she says, "especially after the hurricane." Just after jane's opening, Juan swept through, knocking out power in the neighbourhood. For three days, she and her staff served coffee on the sidewalk; the restaurant was able to open for business two and a half weeks before most of the surrounding area regained power. "And our reputation as a neighbourhood restaurant was cemented," she recalls.
Restaurant closings are commonplace; it's a tough industry with a fickle marketplace, but by all accounts jane's continues to do well. So why shut down now?
"I've been without a lease for two years, and frankly, I don't want to put any more money into another man's building," Wright says.
Four years ago, she realized she wasn't holding any of the cards. Jane's didn't have a secure home, and everything Wright had worked so hard for could be pulled out from under her.
And so she set out to find a new home for jane's. It took her two years to find her building, the former Cooke Ssles st the corner of Gottingen Street and Portland Place. Why so long? "I never got tired of looking at the view," she says of her current home. "I wanted a building to sing to me."
She takes me outside to the corner and we look down the street, and there's a sightline to the harbour. "Isn't that just gorgeous?" Back up on Gottingen, she's pointing out the trees on the sidewalk. "I see a vibrant community. I see potential."
She's good at seeing potential, and seeing parallels between this location and jane's. Nine years ago, she disregarded the naysayers who told her she could never have a restaurant without parking. She eschewed those who said the Robie Street location was in an "unsavoury neighbourhood."
Wright has not been a typical restaurateur in other ways. She understands customer service in a way few restaurant owners seem to. "People will forget what you said," she says, quoting Maya Angelou. "People will forget what you did. But people will never forget how you made them feel."
She instills in her staff the importance of not using labels, of not pre-judging guests, and trying to anticipate their needs, citing seating as an example.
"Sometimes people won't tell you if they're uncomfortable at a table, but you can tell from their body language and expression. It's important to be able to read that, and make sure they are moved somewhere that they are."
She takes complaints to heart and answers each one personally (excluding the anonymous ones), recognizing a human truth: people just want someone to listen to them.
But it's not just guests who are treated so well. "As much as I've wanted jane's to be a great place to eat, I've wanted it to be a great place to work," says Wright. In an industry where minimum wage is the norm, benefits unheard of, and staff turnover high, jane's pays above minimum wage, offers a benefits package and enjoys a relatively low turnover rate---clearly there is some cause and effect at work.
There are a dozen Red Seal (Journeyperson) chefs in her kitchen, and the menu is "a collaborative effort" under the guidance of chef Paolo Colbertaldo, who's been running jane's kitchen for six years. Wright attributes much of her success to the passion and dedication of her cooks and servers, and also to her various tradespeople: "The refrigeration guy, the electrician, the carpenter, the plumber---I could not have been successful if I didn't have these people."
And then the other shoe drops. Despite having her new digs lined up, Wright is not reopening on Gottingen. As she began to think it over, she realized she couldn't move jane's. "It just wouldn't be the same; I don't think I could create that magic twice," she says. "And it's been tough in a lot of ways, living next door to a potential train wreck, knowing that any time the whole thing could come crashing down."
Around the same time as Wright was deciding a reopening was not in the cards, her daughter Jenna Mooers made the move back to Halifax. Mooers, who was a grade 10 student working alongside her mother when jane's opened, has since honed her restaurant chops running a Montreal restaurant while getting a masters degree in business from Concordia. With that experience, she's now planning to set up her own place in her mother's building.
"It's as though the stars aligned," says Wright. "I'll be happy to be her landlord, and just look after the catering and take-out aspect of my business. It's not an ending; it's a passing of the torch."
No matter how she phrases it, the closing of jane's on the common will indeed be the end of an era. Jane's, both directly and indirectly, has had an impact on the culinary landscape of the city, ushering in a new age of neighbourhood restaurants like Brooklyn Warehouse and Morris East. Wright has shown that if you build it (and it includes great food and service), they will indeed come, regardless of whether or not there's parking. She's shown that if you treat your staff well and pay them a decent wage, they'll stay, providing consistency and dedication necessary for long term success.
Jane's has, in fact, been anything but common.