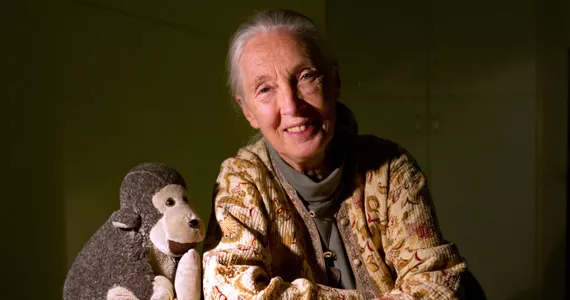 As her sister Judy explains in the documentary Jane's Journey, Jane Goodall doesn't take holidays. And this is despite having just turned 77.
Last week Goodall was in Halifax, on her first trip to Atlantic Canada, to speak to high school students at the Discovery Centre. For interviews the lights are dimmed---she has sensitivity to brightness---and her right arm is in a cast since she broke it in a recent fall. Despite her physical fragility, the clarity of her message remains intact.
"People are more aware of the problems," she says, summing up the difference between recognizing environmental issues and being proactive. "They did a big survey in the UK about climate change. They found far more awareness than they expected in all classes, but that wasn't leading to changed behaviour. So here's the big gap.
"I don't think mother nature is endlessly resilient. I think the point of no return will come and it could come quite soon. But we have the knowledge now, we've just got to make the jump from knowing to doing. That's why I'm travelling 300 days of the year because I've got the kids doing now."
Dreaming of Africa when she was a girl in her native England, she saved the money to go for six months at the age of 23. Despite at the time having no training in animal studies, she so impressed the scientists working in Tanzania---including Louis Leakey---she stayed and helped their work on chimpanzees, eventually returning to the UK to get her PhD.
Stories and photographs in National Geographic made Goodall a household name for decades of work in Africa, but she eventually left Tanzania to be an activist for animals and natural habitats with the Jane Goodall Institute. She also founded Roots & Shoots, a global environmental and humanitarian program for children.
"And I think the reason that understanding isn't leading to behaviour change is that people feel helpless," says Goodall. "They don't know what to do...if you can once get across to people even though the choices you make each day may seem small in the big picture, it isn't just you. It's got to be millions of people making these choices, and that's going to make the kind of difference we must have."
What Goodall is talking about is community and faith. In the documentary, which screens at the ViewFinders International Film Festival for Youth tonight, she revisits the saying that "we've borrowed the planet from our children" with a grim and direct adjustment, suggesting instead that we've stolen it from them and we keep stealing. But she insists cultivating hope is a huge part of embracing change, especially through inspiring young people.
"In the developing world, in Asia, there is far more desperation among the young people," she says. "There's a lot of tears among especially university students who care about the environment but they're being pushed, pushed, pushed by parents and teachers into careers that will make money, business, that sort of thing. You get a lot of anxiety.
"What I have to say to them is, look, don't rebel against your parents and the system. Go do this, make some money, but don't give up your passion for the environment, because then you can really help us."