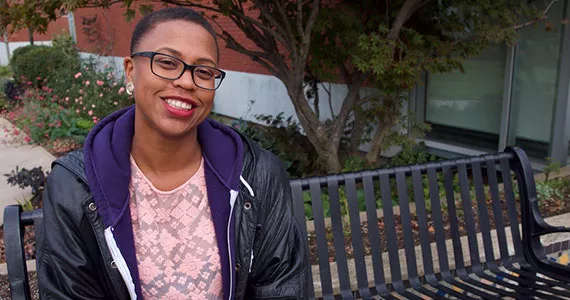 His victory confirmed, Lindell Smith thanked a cheering crowd that had gathered last October at Alteregos. Beaming, he then offered praise for the woman who'd managed the campaign that saw him become the first African Nova Scotian to win a Halifax city council seat in nearly 20 years.
"Like me, Jalana is embedded in this community," Smith said, acknowledging a figure at the back of the room. "And like me, she cares about you."
With that, the revellers began to roar: "Hire her, hire her, hire her."
"I wasn't expecting that kind of shout-out," says Jalana Lewis. "Unfortunately, there's a stereotype that Halifax doesn't cultivate excellence among Black people. So it was really nice that Lindell let people know that I'm from here."
The youngest of two daughters born to an African Nova Scotian mother and a father from Trinidad, Lewis, 31, attended Halifax public schools before graduating in 2009 from Concordia University. Smiling, she notes that her name was inspired by "Joanna," a popular Kool and the Gang song that her sister (who loved it) misheard. 
As a Dalhousie Law student, Lewis won the 2012 Nova Scotia Barristers' Society Race and Law Prize for an essay on the disproportionate incarceration of Indigenous offenders in Canada. Impressed by her scholarship and civic engagement, Lewis' peers chose her valedictorian of their 2013 class. "I was honoured," she says. "It also gave me closure because law school was extremely difficult."
After graduation, Lewis went to work for Toronto legal advocacy groups. A position with the Nova Scotia Home for Colored Children Restorative Inquiry brought her back to Halifax, briefly. After a few months, she resigned and returned to Toronto. It was last May, during a trip home for a funeral, that Lewis learned Smith, in his first political outing, had decided to seek the District 8 council seat left vacant by Jennifer Watts.
"There'd been a lot of violent deaths in the African Nova Scotian community and the sense of despair was weighing me down," Lewis recalls. "I'd planned to contribute to Lindell's campaign but wanted to know him better."
Rodney Small, a longtime friend of Smith's, arranged a meeting during which the trio—all reared in the north end—discussed the Halifax political scene. Inspired by Smith's vision, Lewis was set to make a donation. 
"I liked Lindell's mannerisms and he was a very good listener," she says. "He exuded hope during a time of loss."
Lewis says Smith mentioned a few people had declined the job of campaign manager. "Then Rodney and Lindell started staring at me with this funny look in their eyes," she recalls, laughing. "I said, 'Oh no. Not me.'"
She was outnumbered.
"Everything just clicked," says Small, 38, development manager for Common Good Solutions. "Lindell and I both knew that Jalana was the one. She hedged for a hot minute. But then she was totally on board."  
Lewis returned to Toronto to tie up loose ends. While there, she won $6,000 in a 50-50 draw at a Blue Jays game. "It was an unexpected bonanza," she says. "It affirmed that I was on the right path because the extra money enabled me to focus completely on Lindell."  
The novice campaign manager (or self-described "heightened volunteer") says she prepared for the election by studying Smith's opponents and consulting with prominent political, business and community leaders. "We were starting from scratch, so I had to figure out my role," she explains.  
She counts as a "huge blessing" the August 2016 Halifax Needham by-election (won by NDP candidate Lisa Roberts) during which she shadowed contenders as they campaigned. "That process got people primed to think about holding politicians accountable," Lewis says. "It helped us build a winning strategy," she says.
She also attributes Smith's success to his authentic grassroots flavour ("he didn't stop wearing his hoodies or sneakers") and to the support of about 60 volunteers.
Reflecting on his win, councillor Smith emphasizes Lewis' enduring impact.
"When you are a young, Black male in Nova Scotia, you get the message that you can't excel in anything except, possibly, music or sports," says Smith. "Thanks to Jalana, I achieved on another level. Now others know that you can become a politician and still be cool."
Today, Lewis commutes between Halifax and Toronto while working as chief researcher for the Lord Dalhousie Panel. Charged with investigating possible links between Dal and the slave trade, the group will release its findings, next year, in conjunction with the university's 200th anniversary. 
"We thought it important to mark the milestone with a report on the history of race relations at Dalhousie," says panel chair Dr. Afua Cooper who also holds the James Robinson Johnston chair in Black Canadian Studies. 
"Everyone agrees that Black people have been in Nova Scotia for a long time," says Lewis. "But now I'm discovering exactly where we came from and how we were moved around."