Antojo Tacos + Tequila
1667 Argyle Street
Daily 11am-late
"C an you call back?" Luis López says. He is cut off by a few shouts from the kitchen and shouts a few quick responses back before finishing his sentence. "Call back in an hour." When he picks up the phone an hour later, smack in the middle of what he thought would be a slow Saturday afternoon, he says, "Can we talk on Monday?"
The first few weeks of service at Antojo Tacos + Tequila have been intense for chef López and his kitchen staff. "We used almost 1,000 kilos of tortillas in a week," he says, and apparently they went through 10,000 corn tortillas in a single day. "Saturday night was crazy. We had a line of people waiting an hour and a half just to get into the restaurant."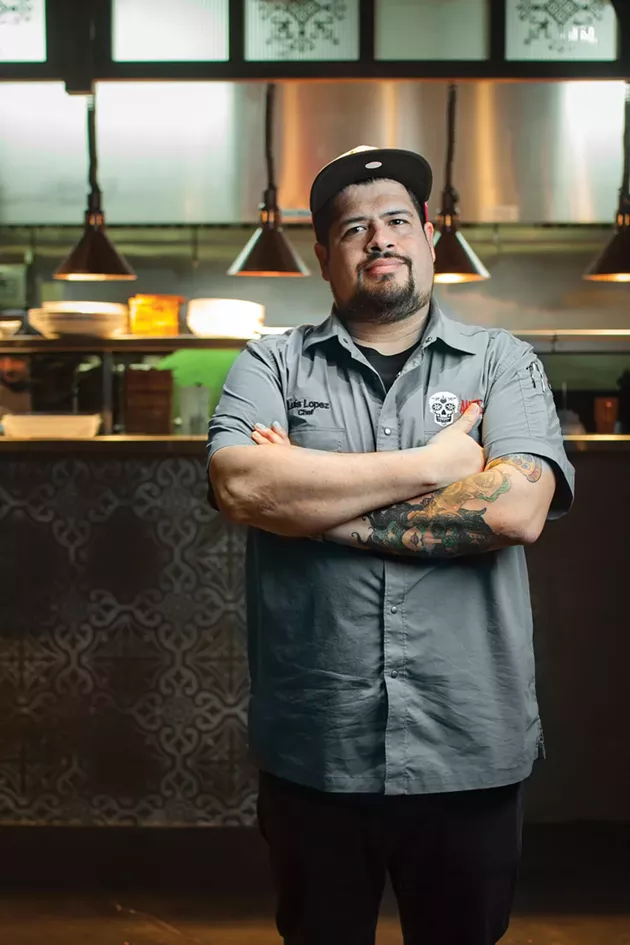 López is from Mazatlán, a beachy town on the Pacific coast in northern Mexico, famed for its fresh seafood. "It's the shrimp capital of Mexico," he says. "I put a dish on the menu, aguachile, that is really representative of my city." After studying culinary arts at Colegio Superior de Gastronomia in Mexico City, he ended up in Saskatoon, where he worked as a sous chef at Leyda's, a restaurant that focuses on organic, gluten-free food. He was there when a friend of his wife called him to let him know that a Mexican restaurant was opening in Halifax. "I sent my resume and the guys called me like two hours after," he says with a laugh. He moved here in November to help Legendary Hospitality Group—the folks behind the Stubborn Goat and Durty Nelly's—open the restaurant.
The food at Antojo is "traditional Mexican with a twist," says López. The menu focuses on developing rich, warm flavours found throughout Mexico. That means a lot of long processes like boiling, cooling, drying and frying pork rinds for their chicharróns, marinating pork in achiote paste and bitter orange and slow-roasting it for cochinita pibil—"a dish that was originally cooked in an underground pit for 24 hours, so we try to recreate that in the oven with a bit of smoke to get the flavour as close as possible," says Lopez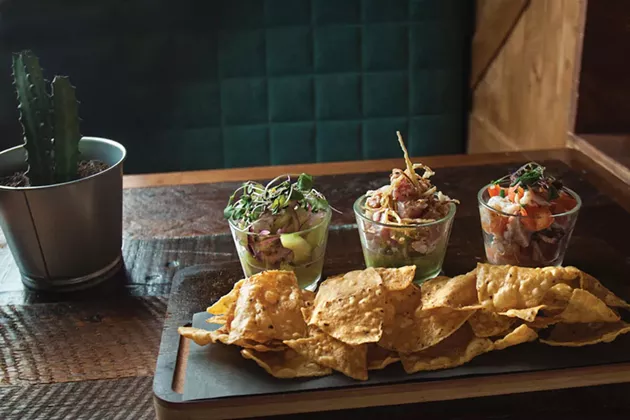 The restaurant is trying to cover as much territory as it can, López says. The owners, he says, fell in love with eastern Mexico's Yucatán Peninsula, whereas he and his sous chefs, who are from Monterrey, have love for the cuisine of the north. "We've gotten some comments about not having nachos or chimichangas," López says. "But that's not Mexican.
"If you've ever had the chance to go to Mexico, you'll know what the flavours are like. Of course they won't be exactly the same. The limes we use don't taste the same as the limes in Mexico—even the ones that come from Mexico—but we try to adapt everything to try to make it taste as close as possible. We've gotten a lot of comments like 'Oh, I remember this from my last trip,' and that's what we're looking for."
We've gotten some comments about not having nachos or chimichangas, but that's not Mexican.

tweet this
Serving up a taste of Mexico to Nova Scotia means importing some products. For instance, Antojo is bringing in recado negro—"a black, charred paste made with chilli and spices that we mix with a beer batter so the fried fish looks black," López says, "we're trying to change the way people see Mexican food and this is kind of cool and unexpected"—from Oaxaca, and grasshoppers from Yucatán. Some other ingredients are being brought in from a distributor in Toronto.
There is also a lot of local product being used, but López thinks the restaurant may have to start importing some of its meat from other provinces as well. "We're using almost 500 kilos of pork in a week at the levels we are doing right now," he says. "And we put these tacos made with beef tongue on the menu. Our supplier was like 'I can't supply anymore, you've used all of the beef tongue in the province.'" He laughs. "It's been crazy."
But López seems to be revelling in it. "I'm so happy to see my menu come to life," he says. More than anything he is excited to showcase the diversity of Mexican food. "It's going to take some time," he says. "Some people only go to Cancún and they'll be like 'I went to Cancún and this is Mexican food.' I love that I have the opportunity to teach people about Mexican food, to show that it's not just fajitas and chimichangas and tacos, that it's not Taco Bell."