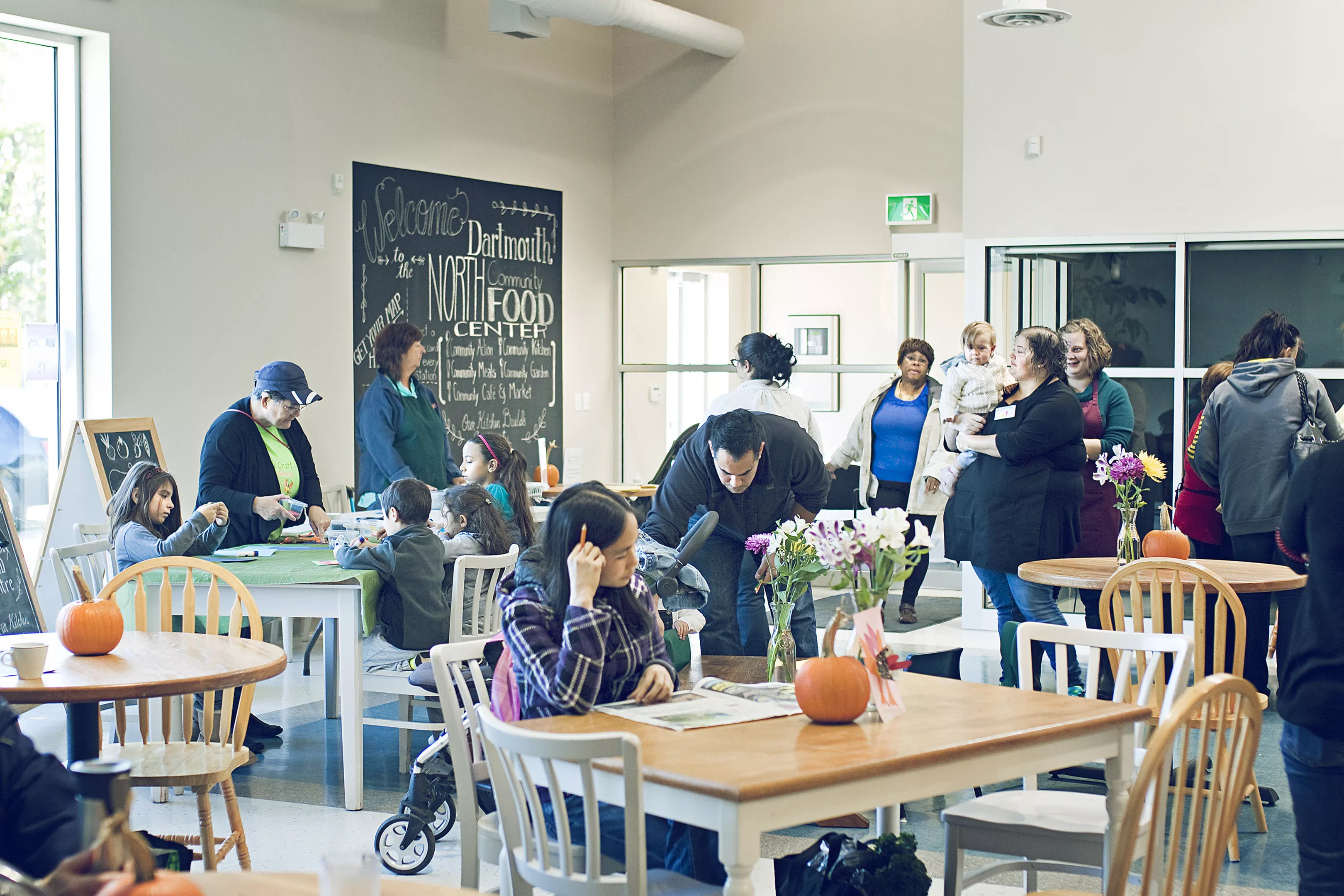 Dartmouth north is a food desert. There are no dedicated grocery stores between the Sobeys on Wyse Road and Chops Meat Market on Wright Avenue, from the waterfront to the Walmart in Dartmouth Crossing. To be generous—to geography, not the residents of Dartmouth north—that's six to eight square kilometres of the HRM where corner stores act as local grocers, where residents have to be able to go out of their way to buy fresh produce.
The closure of the Primrose Street Sobeys in 2012 was a death knell for access to fresh food in Dartmouth's north end. That Sobeys was one of the last small, community grocery stores that the chain operated, and its closure added an extra kilometre to a north ender's trek to buy food. So thank heavens for the Dartmouth North Community Food Centre.
Two-and-a-half years in the making, the Dartmouth North CFC is a project of the Dartmouth Family Centre, a community resource centre on Albro Lake Road. Sobeys actually donated its old Primrose Street storefront to the Dartmouth Family Centre as a rent-free space for 10 years, so vegetables are once again sold there at its Saturday morning market.
"We're a centre in the community that does programming around food, so we offer access to food through community meals and our low-cost produce market," says Deborah Dickey, manager of the Dartmouth North CFC. "We also offer community kitchen, so people can come in and use the kitchen with our facilitator and volunteers and cook meals together." More than that, the Dartmouth North CFC has programs that allow people to come together to discuss food issues that extend to poverty, housing and food security.
There are around 19,000 people in Dartmouth north, and more than 60 percent of the community's population lives on less than $20,000 per year. Almost a third of the families in Dartmouth north are single parent families, and 28 percent are considered low-income families. But the neighbourhood isn't just a handful of statistics—it's a vibrant community that is aching for the types of resources that a Community Food Centre can offer.
"We really recognized that the community really lacked spaces for people to just gather. People were really looking for a positive, bright space in the community where they could come together around food," says Dickey. "There wasn't that kind of nice space where people could come together, come and go as they please, socialize. And, of course, there's a lot of food insecurity in the community, so, you know with those two things together, it just made sense to pursue this type of project."
"This is not a food bank," says Craig Flinn, chef proprietor at Chives. "But a food culture and education centre, something that is far more positive and encouraging to its community."
Flinn and Renée Lavallée are using their restaurants—Chives Canadian Bistro and The Canteen—to support the Centre on October 21 when they host dinners for Restaurants for Change, an annual fundraiser put on by Community Food Centres Canada. It's the second year Chives has participated in the campaign, but the first year there has been a Community Food Centre in Nova Scotia that will directly benefit.
"I have been involved with fundraising for many, many causes since we opened the restaurant, but this one is exciting as it is in the neighbourhood I grew up in, played community basketball in, and where I had many friends," says Flinn.
"I'm so inspired by the Dartmouth North CFC," says Lavallée. She sees an opportunity to bring businesses and the community together in a way that builds and shares skills. "We need to support, volunteer, and advocate for this center. It's time for me, and for other chefs, to give back and pay forward what we've been given and taught."
The Canteen will be hosting a special, ticketed dinner event. Chives, meanwhile, will be donating proceeds from its regular menu service on Wednesday, so while tickets aren't required, reservations never hurt.
Dartmouth North Community Food Centre
6 Primrose Street, Unit 104
dartmouthfamilycentre.ca
Restaurants for Change
Chives Canadian Bistro, 1537 Barrington Street
The Canteen, 66 Ochterloney Street
restaurantsforchange.ca