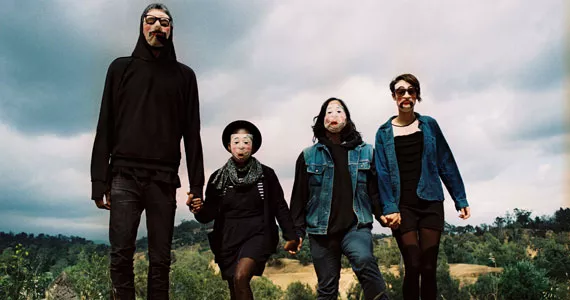 "I don't believe it's the last record, but if it is, I think I will be satisfied with the body of work left behind. Ski Mask would be a graceful exit," says Islands' Nicholas Thorburn. "Stylistically, the music represents the entire catalogue and even the songwriting spans the last seven years, so it is an honest reflection of a big chunk of Islands' history."
So the ending hinted at in the opening line of Ski Mask, the Montreal-born, LA-based band's latest masterpiece---"I won't write another wave/and I won't write another word after today"---was only metaphorical. Meaning more beautiful pop with an undercurrent of aggression in your future. As is Islands' custom, dark lyrics hide in plain sight, accompanied by sunny arrangements.
"Anger drives me but sadness is really the fuel to my fire. I think the marriage of the two makes for potent songs. Maybe I'll look into 'happy' and 'contentment' for the next one," says Thorburn, referencing his quote in the album's press release saying that the theme of Ski Mask was anger. "I think I was angry when I was being interviewed about the record and I said anger was a theme. I think it's close but not entirely accurate. A better word might be aggression. A few of the songs have an aggressive confrontational nature."
From a listener's perspective, it's less about typical angry music fodder, and more about wry wit and clever lyrics. Islands isn't short on humour, as evidenced by the promotional video for the album, featuring Michael Cera and Bill Hader in a mockumentary "Rock and Roll Legends presents: Islands." "Derek Waters is the brain behind it. He's a very talented comedian and director--- he created Drunk History---and we talked about collaborating. He whipped up the entire thing in about 24 hours and turned the whole thing around in less than a week."
Perhaps the best part of giving in to an Islands record is the changing interpretations, something Thorburn is keenly aware of preserving. "I don't want to be too abstract or self-mythologizing but I like the mystery of the songs. Some times---in fact, most times---the true meaning of the songs are lost on me, and I don't necessarily know what I'm singing about until years later, when I have more perspective," Thorburn says. "I don't try to force meaning and having to explain meanings literally sort of sucks the air out of the proverbial room."