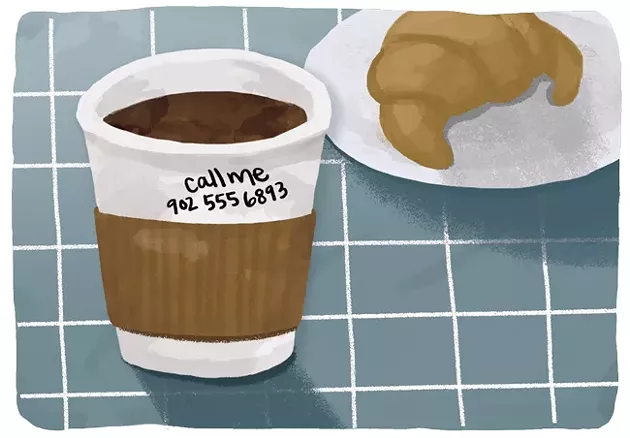 Hey Ask Hole,
I've got a major crush on the barista at my local coffee shop. I know it's part of the job to be friendly—and I remember how gross it was when dudes would hit on me back when I was a server—but there's a serious flirtatious vibe between us and I want to at least try to take things beyond morning lattes. Is there any non-creepy way to ask out a barista/pizza delivery person/bartender while they're on the job?
—Crushing And Feeling Excited
Dear CAFE,
The short answer is, "No. There is no non-creepy way to ask out a barista while they're at work."
But, your question does a good job of acknowledging some of the reasons why that is. As you've noted, being nice to you is part of a server's job. Actually, if you look at job postings online, you'll see that—after "pulling shots"—the second requirement of any barista is to smile and nod all the way through a story about your dog's
diarrhea
. A "serious flirtatious vibe" becomes really hard to judge in a situation where social generosity is a person's primary means of getting paid. When a barista is flirty (see: actually just nice and attentive), you tip them. When they draw a heart with the milk in your latte (which, SPOILER: They do for everyone), you think, "Ooh la la! C'est
l'amour
," and keep returning to the cafe. Your crush works in the service industry, CAFE, and good service is not synonymous with flirting. But, your experience as a server has already taught you that.
I don't mean to freak you out, but those "gross dudes" who used to hit on you at work? They ALSO perceived a "flirtatious vibe," which they felt justified their actions. Think about how wrong they were. Now, I'm not saying that you are yourself a "gross dude," just that WOW is there a lot to unpack before you make a move on someone in the service industry. And also, please, please, don't make that move while the person is working!
Putting someone in that position while they're at work, where they can't—for fear of losing their job—tell you to fuck off? YUCKKKKKKK, CAFE! NOOOOOOO! That's such a gross exercise of power that I want to cry and then die. Please play Sarah McLachlan's "Angel" at my funeral.
Speaking of power, I think it's also necessary to unpack how much your crush on a barista (or anyone in the service industry) is rooted in the position of power you occupy when you walk into a business as a customer. Do repeated interactions wherein you are "always right" affect the ways you perceive (and perhaps fetishize) that person? I mean, we're talking about someone who remains friendly while you literally use
money
to control their body. If that kind of absolution isn't crushable, I don't know what is!
If, after you've unpacked all of this stuff, you still believe there's more between you than customer service, then I'd recommend trying to engage your crush outside of the power dynamics of the coffee shop. Do you have mutual friends? Are they on social media? Your crush's response to a friend request could help you gauge their interest in interacting with you off the clock.
And, whatever you do, be prepared to switch coffee shops if it doesn't work out. DO NOT keep showing up and forcing another person to interact with you if they've made it clear they're not interested.
———

Opinionated is a rotating column by Halifax writers featured regularly in The Coast. The views published are those of the author. Send your 
awkward social questions to 
askhole@thecoast.ca and we might answer it in a future column.