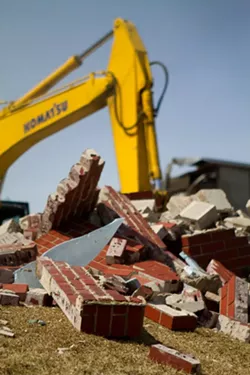 Four years after Queen Elizabeth High School was closed, the province is finally demolishing it. But according to one industry insider, the Department of Transportation and Infrastructure Renewal (TIR) is violating HRM's demolition rules. "If this wasn't a government job it'd be shut down," says Dan Chassie, president of Goodwood C & D [Construction & Demolition] Recycling. "They say they are recycling clean concrete and bricks but they're knocking the whole building down: roofing, calking, windows; and it's all being mixed into a pile to be left onsite."
Chassie blames ignorance of the rules by TIR. "The engineers in charge don't know what they're doing," he says. "They didn't know glass is a regulated material---because if shards of glass end up as fill it's a physical hazard."
Lindsay Lewis, a communications office for TIR, says that "material is being segregated as efficiently as possible during demolition activities. We are following best practices by removing all recoverable materials from the site and only using processed, clean concrete and brick as fill. All recyclable materials have already been removed, except for steel, which is an ongoing process." She adds that her department has worked with HRM Solid Waste Resources on the planning and implementation of the work.
The rationale for leaving the concrete and brick as fill, says Lewis, is that it reduces the need to transport fill from offsite. She says in doing so TIR is saving 13,000 tonnes of fill.
Chassie has a different interpretation. He says the roughshod demolition methods being applied by Demolition Resources Limited, the company TIR hired for the demolition, have resulted in all the materials being blended together. Chassie also claims that TIR fired Stantec Engineering from the project because the firm wanted to ensure better environment and labour standards.
Lewis says that Stantec had a 20-week contract that ended, and the firm Pinchin LeBlanc has been hired as the new overseeing consultant. Calls to Stantec for comment were not returned.
Chassie is also concerned by the lack of controls regarding hazardous materials on the site. "It's unbelievable they can get away with it."
Lewis says that "several materials have been diverted including 880 tonnes of asbestos-containing materials, including plaster, drywall, ceiling tiles, vinyl asbestos tiles, and insulation. Other examples of diverted materials include PCB light ballasts, mercury thermostats, lead acid batteries, and assorted lab chemicals." She adds that "air testing, as well as noise and dust monitoring, have been ongoing for the duration of the project for protection of workers and the public."
Chassie says that because of the demolition methods properly decontaminating the site is a near impossibility. "If you're removing 880 tonnes of asbestos it's impossible to say 100 percent of the material has been removed," he says. "A private contractor would have to take it to a licensed landfill. The chances and risk of still having contaminated material is very high."
Traces of hazardous materials on site are of particular concern because the province plans to sign the property over to Capital Health once demolition is complete. Capital Health has tentative plans to turn the site into an urban farm.