This past week local publishers Invisible Publishing took their act on the road, with a mini book tour of Anna Quon's Migration Songs and our very own Mike Holmes' This American Drive. I caught up with the crew at Quon's launch at the Toronto Women's Bookstore. Sadly I missed Holmes' party, which sounded like a blast: it was held at gallery Mercer Union, with a performance by the Wordburglar. How appropriate.
Watch for official Halifax launches for both these authors.
A fuzzy photo of Anna Quon reading.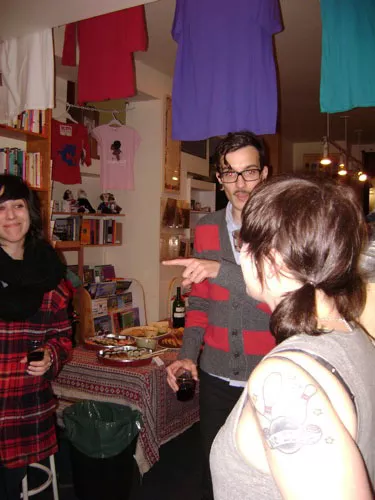 Invislble Publishing publisher Robbie MacGregor sporting facial hair from the road, a new publishing tradition.
Mike Holmes (who shaved off his tour 'stache) and Invisible designer Megan Fildes, who won third prize in this year's Alcuin Book Design Award.