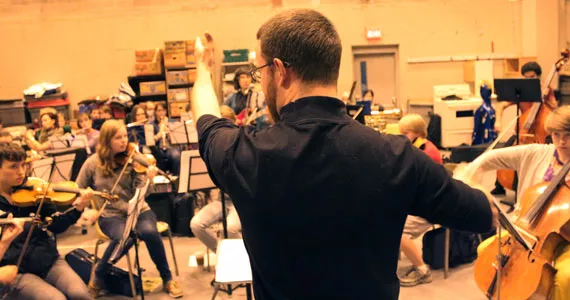 Bryn McLeod, director of operations for the Halifax Music Co-op calls its showcase Inventions "a coming together of two musical worlds, bringing the bar scene into a concert hall and adding everything that entails." In its 2013 manifestation, the HMC has paired two new composers with local indie artists Gianna Lauren and Hermitofthewoods (AKA Michael McGuire).
Singer-songwriter Lauren was paired with William Lin, HMC piano faculty member and fourth-year Dalhousie microbiology student. This match up was horizon-shifting for Lin, as it meant composing for an orchestra instead of solo piano. Lin describes his biggest hurdle as "trying to get inside Gianna's head."
"Music is like conversation," says Lin. "It's about expressing something in your head to other people." In this way Lin sees Lauren's music as a statement and his role as composer was to join her in conversation, moving the dialogue forward.
"It should be called 'Infectious,'" says Lauren, who found it refreshing to get an external look at her music: "Once you play your own songs the same way for years and years you just get into the habit of doing it that one way."
Inventions has inspired Lauren to use "more orchestral instruments next time I go into the studio." Lauren was struck by "how much the HMC are dedicated to this particular Inventions program; its really exciting to see a very small group of people put together a very large concert. They're ambitious!"
The other experiment that HMC set in motion as part of Inventions 2013 saw Marc Blouin, a clarinet player in the HMC orchestra, linked with rapper and spoken word artist Hermitofthewoods. For Blouin it wasn't scoring hip-hop for an orchestra that was the real challenge, but conveying the feeling of Hermitofthewoods' sound.
"See, these weird rhythms on the page, they look strange but then they're actually really intuitive," he says. Blouin stressed that to play hip-hop as an orchestra you need a healthy dose of "swagger," not a term usually associated with the setting.
"If we as orchestral players want to count ourselves as part of a living tradition of music, we can't afford not to pay attention to what he is doing," says Blouin. "People playing in an orchestra, they hear Beethoven and they think 'this is great art' on some weird nebulous plane, but I don't think that it's that distinct from what's happening now. I think music has always existed to delight people and to challenge people."
Like Blouin, Michael McGuire sees a shared foundation for hip-hop and orchestral music.
"Music is basically the organization of noises," McGuire says. "Hip-hop is made by taking a lot of different parts and putting them together in ways that might not work but do. Having an orchestra put together hip-hop and then play it is kind of like sampling, except instead of using recordings we're using a horn section, or strings, or a bassoon solo. There's a lot of similarities there that I don't think people know exist."
This collaboration has been "very validating" for Hermitofthewoods, an accomplished hip-hop and spoken word artist. "Having a whole lot of musicians say this stuff is interesting---that's been rewarding, in the sense that now I kind of have learned to trust my instincts a bit," he says. "I know the stuff I'm making isn't just random noises I'm throwing together, there is some musical validity to it...like getting a gold star on your report card."
hr size="1">
Inventions 2013 w/Hermitofthewoods, Gianna Lauren
October 17, 18 at 8:30pm, $15/$20
Prince Hall, University of King's College, 6350 Coburg Road
www.inventions2013.eventbrite.ca