Tonight, Dartmouth rapper, skateboarder and
#choptrees
advocate
Jay Mayne
returns to
The Seahorse
(2037 Gottingen) for a show with his doggies
Thrillah Kane
and
Matty Boh
. It's been a minute since
The Coast
caught up with the smokey-voiced rapper, but he's been on the hustle as usual and he's stoked for the show. Check out these
11 Questions
with Jay Mayne.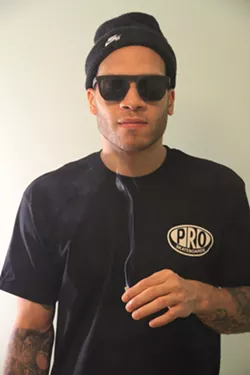 What's up Jay Mayne, what's new?
Just kickin' it, I've been workin' on new music. Also tryna break into the production world.
Why now for this Seahorse show?
I feel like the city needed this show. It's been a minute since
ODOD
touched the people. Also my boy
Jason Wadley
is moving so we had to show him love. Can ya feel what I'm saying.
What's the hottest track so far this year?

We only early in yet. I'm still listening to
Yo Gotti
's
CM8
and
Freddie Gibbs
(
Shadow Of A Doubt
). Saw a dope
Uncle Murda freestyle
though (haha) that count? (
Editor's Note: Yup
).
What's your favourite blunt wrap?

I went hard with Swishers, but they took them and Pom Pom's off shelves. Found a plug, tho.
New Yeezy Boosts or new Jordan 4s?

Neither.
Nike SB Stefan Janoski'
s or some dunks.
Young Thug or Rich Homie Quan?
Both got joints. Young Thug has more plays.

Cool Ranch Doritos or Ketchup Doritos?
Cool Ranch but I can never finish a full bag. Ketchup (is) ill though.
What's your favourite Snoop song?

Prolly "
G'z Up, Hoes Down
" bonus on
Doggystyle
.


What's your second favourite Snoop song?

All of
Doggystyle
and
The DoggFather.
What skate clips have you been grinding lately?

I watch skateboarding every day so it's hard to pick a clip.
But
Daewon Song
just did some next-level stuff.
What do you usually drink in the club?

Usually I drink water in the club. Anything else, they might catch me off my pivot. #ChopTrees.