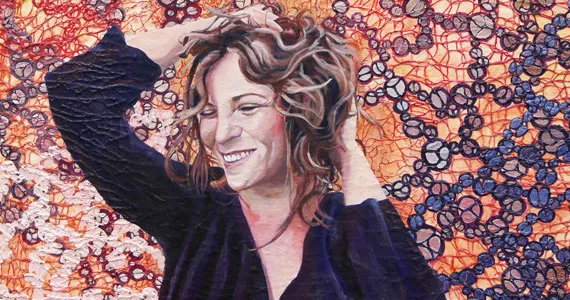 Maria Doering spends her life in the "and" between body and soul. Crafting mixed-media pieces that combine printmaking, portraiture and fabric, she constructs canvases that explore that space, too. "Everything that makes us who we are, not just anatomical but on a whole level, including language and character traits and intangible stuff: I'm trying to express that other part of us," she says.
In an attempt to capture the space where chemical balances of the brain end and personality begins, to step foot in the valley between who and what we are, Doering has created an artistic series that presents both. Titled Internal Dialogues and on display until December 15 at the Corridor Gallery, the collection features intimate portraits of close friends layered over an artistic interpretation of their insides: Blood vessels and cell structures bend under equally-curved smiles, and suddenly the "and" Doering lives in shrinks before your eyes.
1 Doering doesn't consult biology diagrams or medical texts when creating prints of her subjects' physical interiors. Instead, she takes a more abstract approach, aiming for pieces to look like tissue or veins but not be a literal copy of any one body part: "If I try to feel around in my head about what the inside of us looks like and feels like, I think of hundreds of dense patterns and textures," she says.
The real magic happens when Doering manipulates these textbook-esque images to reflect the person they're about. Take these red, artery-like lines for example: They fan out just like the subject's laugh lines, just like her loose curls of hair—and probably just like her laughter did in that moment.
2 "I try to capture my subjects in a natural way, like going for walks to their favourite places" Doering explains of this spontaneous pose. "We were at my friend's cabin and she piled her hair up and was laughing. The light hit her in such a way I just ran for my camera!"
Doering then re-created the photo in a detailed painting. She carefully trimmed the painting and added to the canvas after the background portrait of the subject's insides was constructed.
3 "I won't draw just anybody, it has to be someone who has a certain energy about them," Doering says. She adds that while she "doesn't believe in auras," the feeling another person gives off is undeniable—and can be felt both emotionally and physically.
Internal Dialogues To December 15 Corridor Gallery 1113 Marginal Road