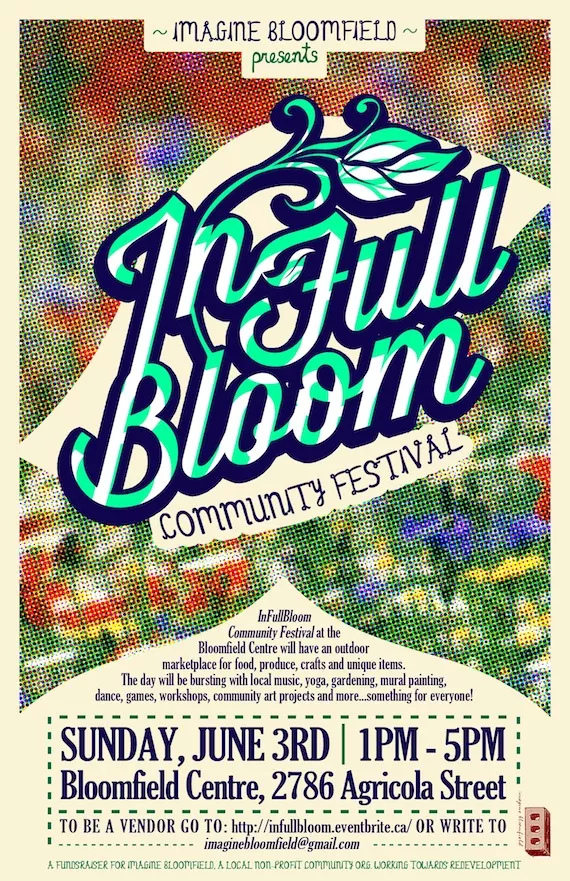 Summer's not the only time for plants to grow. The Bloomfield Centre is about to literally blossom with life on June 3 as it's the second annual
InFullBloom Community Festival
, from 1-5pm.
"As a community non-profit organization, we saw bare space. [We wondered] how do we make Bloomfield come alive? How do we bring the community outside?" says Natalie Chavarie, event co-chair and co-organizer. The main point of the festival is to celebrate the community and fundraise for community-based projects. They group has already opened a greenhouse, for example.
There are already 10 confirmed vendors who will be selling local goods such as pastries, origami crafts, seedlings and plants from the greenhouse, jewelry, and vintage/retro clothing. Prices are anywhere between $5 and $25.
"You could come with five bucks and you could get a plant and a coffee," says Chavarie.
There will also be free activities like knitting, bike repairing, dancing and yoga in and around the centre. You can even talk to the board members at the event.
"There'll be a list of events," says Chavarie. "We're also working on a gym indoors in case there's rain."