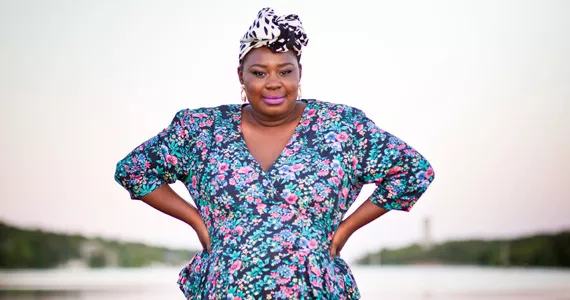 Mo Handahu turns heads when she walks into the room. A symphony of colours, clashing patterns, bright red lipstick and a demure grin, Handahu's bold personal style belies her quiet nature. At times it's hard to hear her in the bustling cafe where we talk about her plans for the future, her style philosophy and her designs. But Handahu is anything but shy. She possesses an assured self-confidence that has been one of the major factors that have made her brand of clutches, Clutch Culture, such a success. The other major factor, of course, is talent.
Clutch Culture began in 2009 in Handahu's apartment. A two month lull in between jobs found Handahu wandering around in a fabric store. "I had a machine at home and had made skirts and stuff before but while I was in the fabric store, honestly, I heard a little voice that said 'make a clutch' and I thought, 'I could do that, maybe?' So I made one and it was pretty flimsy. I wanted to make it better, and I honestly got addicted to it," says Handahu. "There were times I'd be awake well into 7am. I wanted to make it something I liked, something I had been trying to find."
At a party, she bumped into a friend who convinced her to talk to an acquaintance who was starting up a fashion magazine. Handahu set up a meeting. "I went in and I had this little suitcase and I put all my clutches in there. She was like, 'Where have you been?' and I was like 'Um, my apartment?'" The fashion magazine didn't stick around for long, but the lasting impression it made on Handahu did. "I really think it made me believe in myself," she says.
Handahu moved to Nova Scotia from Zimbabwe to attend school, and while she sometimes entertains thoughts of moving to Toronto, where she feels a kindred fashion spirit, she chooses every day, to stay. Partially, it's because Handahu is making such big waves in this little pond. The day before our interview, Handahu had gotten word that she would be on Fashion Magazine's Style Panel, representing Halifax from style bloggers all across Canada. Right now you're probably starting to hate her a little bit for being so damned charmed. But don't be mistaken, Handahu doesn't passively receive good news, she goes out and makes it. "I had emailed them," she says. "I said 'I think I'd be a great addition because I'm curvy, I love colours and I thrift and you don't have that there' and it turns out they had wanted to contact me. East coast bloggers aren't represented at all in the mainstream fashion forums that they have. So for them to do that was great."
Blogging isn't new to Handahu. Her style blog, Curvy Geekery, takes an almost equal amount of love and attention as her line of clutches. "It's a good mix," Handahu says. "I love to go to the events and cover them and at the same time I like to be a part of them and make my own product."
Her community involvement garnered her an award from the Black Business Initiative this year, the young entrepreneur award for outstanding services in the community
"I'm a big advocate of helping kids, empowering other women to have a good self image and love themselves," says Handahu. "I was so proud of myself, but I feel I haven't scratched the surface of what I wanted to do. But for them to give me that was huge."
Last year at Atlantic Fashion Week, Clutch Culture's collection was a colourful celebration featuring batik prints, West African fabrics, acid neons and turquoise. Her newer pieces reflect a developing style. There are florals, '60s graphic prints and some shades bordering on pastel. Her new summer collection, runway show June 23 (details to come), promises "a return to the '90s. Everyone loves the '90s, right? I'm obsessed."
Whatever the era, patterns and a love of colour are standard. Those who want an understated beige clutch should look elsewhere. "Sometimes people will come up to me and be like, 'I don't know how to wear this clutch' and I'm like, 'it's not for you.' I design for bold people who see my clutches and are like 'YES!'" Think you fit the bill? Handahu sells from her website and Pink Mascara on Spring Garden Road. "I'd like to get into more boutiques and things but I want to do it right. I want to do clothing, I want to do so much more."
Handahu seems to walk a fine line between wanting to be in complete control and wanting to do everything all at once.
In the midst of putting the finishing touches on her end of June collection, she is focusing on rebranding her site to reflect her new style outlook.
"I love the bright colours but I wanted to show that growth, I wanted to show that maturity in me...I'm my own brand. I think I've found a really good way of representing myself," says Handahu. "I'm personally inspired by people that know who they are, I can't stand people who are trying to be like other people. Doesn't matter if you are grunge or goth or whatever you are but if you know who you are, I'm inspired by that."