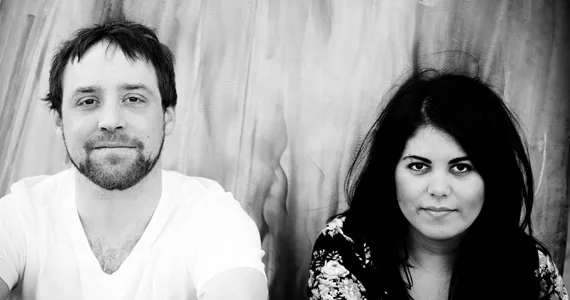 Winnipeg's Imaginary Cities' name is fitting. Conjuring up images of scenes in Inception (or perhaps the rare B-side to a Yes album), the soul-rock duo---made up of vocalist Marti Sarbit and multi-instrumentalist Rusty Matyas---has seemed to have come out of nowhere.
But with their debut album Temporary Resident gaining glowing reviews across Canada and an opening slot for the reunited Pixies' North American reunion jaunt, it won't be long until Imaginary Cities headline their own arena tour.
Materializing in the Canadian music scene in the spring of 2010, the band came about during a chance encounter between Sarbit and Matyas at a local rock club called The Cavern, where Matyas was mixing sound. Sarbit---whose first and only band The Solutions, a slick Motown cover band which continues to play at the club every other Tuesday---was approached by Matyas to lend her smooth baritone to a special project he was working on.
"We had been playing there for a year and Rusty approached me with this Motown song he was writing and asked me to write some lyrics to sing on it," says Sarbit from her home in Winnipeg. "That was the first thing we ever did together."
Matyas, who had gained a following in the Winnipeg music scene performing with The Weakerthans and The Waking Eyes, instantly clicked with Sarbit, who had only performed solo projects before The Solutions. But her novice approach to songwriting was made up for by her soulful precision, refined from years of listening to Lauryn Hill (whose Miseducation of... she cites as a favourite album) and records from R&B luminaries Otis Redding and Sam Cooke.
These sounds directly influenced the initial recording process for Matyas' project, which offered unprecedented ease between the two songwriters while recording together. The success of their first effort led to the grand idea of forming a band for a full time gig, but first, they needed a name.
"We were looking for a name that didn't limit us to certain sounds. What happened was my Dad and I were looking through his crazy book collection," says Sarbit. "We were looking at titles and found one called Imaginary Beings and the other one was Invisible Cities and we just smushed them together."
But it is unclear if Sarbit ever cracked into the books that created her new band's name. The Book of Imaginary Beings is a Spanish handbook of fantasy zoology that contains supernatural descriptions of mythical creatures. One passage in the anthology is about an animal known as a "sea horse" that lives under water, occasionally sauntering onto land to have sex with land horses, before submerging into the ocean once more. Pretty psychedelic sounding (seriously, this sounds like a Yes album), but the the name Imaginary Cities succeeded in conjuring images of the limitless soundscapes found across their debut album, Temporary Resident.
Holding down its roots in the classic soul of the '60s, Imaginary Cities has gained attention for its mixture of classic pop and indie rock flourishes that critics praise for their subtle guitar solos and classic rock tones. Not an entirely original combo, but one that is perfectly captured by the band, especially in the form of Sarbit's vocals and songwriting that lacks any semblance of pretension. This is mostly indebted to the soul classics Sarbit grew up listening to (like the aforementioned Redding and Cooke) which perfectly mixed commercial appeal sonically, with an honest approach to storytelling.
"I've always loved songs like that," says Sarbit, discussing Redding's canon and fellow soul acts like Aretha Franklin and modern-day crooner Feist. "It's got a beautiful rawness to it. They could be singing about some really heart wrenching things and somehow it could put you in an amazing mood. Otis Redding's songs, for instance: He sings about really sad moments in his life, but the songs make you smile, or at least I've always felt that way about them."
These raw emotions emerge from the multiple sonic layers that comprise Temporary Resident. Recorded in quick succession, Sarbit and Matyas have famously been described as turning out the hits on their debut album faster than the Brill Building, while recording their demos at home.
"We would actually record from the very beginning. We would write a little part, record it, and just keep adding to it. That's kind of the beauty of being in the space recording while writing the song at the same time. You can just keep adding to it," says Sarbit on their almost electronica-like approach to songwriting.
Although the band would later refine the songs on Temporary Resident in a professional studio, Sarbit says it was important to hold onto the urgent textures that made up the duo's demos. "We definitely wanted to keep the original demo feel. So there are a lot of vocal tracks and some odd sounds--- like for one of the songs we used empty beer bottles for percussion---that ended up on the album," she says. "Just little things we wanted to keep so we wouldn't lose the original feeling that we had."
This uniqueness not only aided them in the recording studio, but helped the duo land one of the most important spots of their career when they were asked to open for the Pixies. "In terms of finding a connection between the music, I think I can see where they're going with choosing us," says Sarbit, a little unsure. "They're so outside of the box and known for being different. I guess they wouldn't want to just get your regular hard rock band to open for them."
And lucky for Pixies, Imaginary Cities aren't your run of the mill band. But that doesn't mean their performance at the Metro Centre on April 9 doesn't come without its anxieties. As the band approaches a string of stadium appearances opening for the legendary rockers, Sarbit prepares for not only the biggest show of her career thus far, but a set that will make or break them into Canada's mainstream.
"Luckily I have time to just sit at home and think about how nervous I am," jokes Sarbit.
But deep down, she isn't worried. Because as the accolades grow for Temporary Resident and her band's energetic live performances, she grows more humble everyday from the band's meteoric rise and attention in such a short amount of time.
"The fact that people like it and are willing to go out and buy our CD, or listen to it on YouTube, or whatever, is really exciting. I feel pretty lucky right now," says Sarbit as she prepares for her biggest gig yet. "I can't complain about anything."