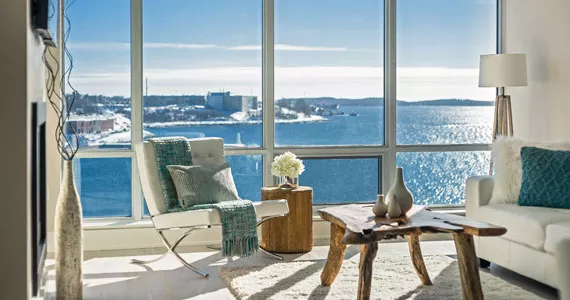 So you got yourself a condo. A modern blank slate upon which you'll attempt to draw the home of your dreams. But whether you're decluttering and downsizing, or celebrating the ride to becoming a first-time homeowner, starting from scratch and deciding how to turn your flat into a stylish, comfortable, space-efficient home can be challenging. Here are some tips from decorator and expert home stager Joanna Lane, of Staged For Upsell, on how to get started.
1. Map it before you move
Less is definitely more when you're living in a smaller, open-concept space, but sometimes knowing exactly how much of your stuff to move in—and where to put it—can be a challenge for new homeowners. "If you go when it's vacant it feels smaller than it is," says Lane of starting from scratch in a new space. She suggests drawing a to-scale map of the space to see what will fit where—and what won't. "It can be hard for people. They can get so stuck and can't imagine putting their furniture any other way."
2. Create space that isn't there
The thing about decorating a condo is you have to be both clever and selective with the room you have. "Having exposed legs instead of a skirted sofa gives the illusion of space," says Lane, who also suggests pulling your furniture away from the wall—or into a smaller conversational area—for the same magic space-conjuring affect. "Taking the curtains away will also make the space a bit bigger—or using the same colour curtains as the wall. If you've got really nice windows, you don't need to dress them."
3. Be discerning about your furniture
"If you have too many pieces or your furniture is too big it'll feel small," says Lane, who when working with condos leans towards slight, airy, light-coloured pieces. "I say pick your favourite pieces and your most functional pieces. When you're choosing new furniture, chose something that's functional. Trunks are really big right now—wardrobe trunks or vintage trunks—or Structube or IKEA have a lot of coffee tables that are also storage." She also always pairs a couch with a chair or two over a loveseat.
4. Clear the decks
"Something I kind of like are ghost chairs," says Lane of the transparent, light-catching and slick-as-hell pieces, that are easy on both close quarters and the eyes. On top of being a big fan of the aesthetic, she recommends clear or glass accessories and accents as a way to save on, and brighten, space. "I've seen lots of people use glass coffee tables or side tables. The problem with glass, for me, is that it can feel cold." To combat this, she's added rustic details—like a stack of vintage suitcases underneath—for warmth. "They weren't taking up any extra space, and if that was your home you could store all your magazines in there."