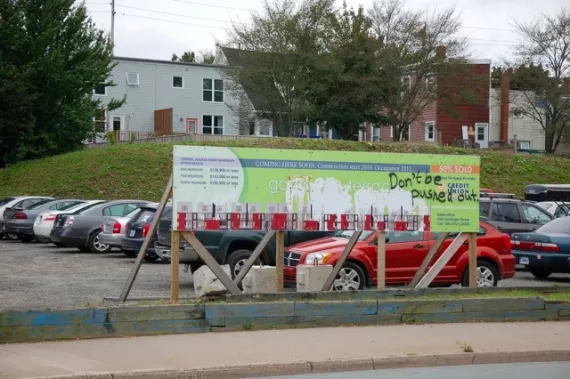 Some idiot has again defaced the sign advertising the Gottingen Terrace housing project on Gottingen Street, on the old Sobeys lot across from the library. In the spring, Mr. Idiot spray-painted "fuck gentrification" on the sign. Demonstrating how little money the people behind Gottingen Terrace have at their disposal, rather than replacing the sign, they simply painted over the offensive message, but Mr. Idiot didn't get the message, so this past weekend spray-painted "don't be pushed out" on the sign.
The messages demonstrate just how uninformed, stupid, douchbaggy and counter-productive Mr. Idiot is.
Don't get me wrong---I'm not against graffiti; it can be used in powerfully effective ways, but even simply as an expression of anger it serves a useful social purpose in giving voice to otherwise ignored opinions. And while it's a complicated issue, gentrification is worthy of examination and debate from all perspectives, and, yes, that includes from the faceless anger of graffiti.
But here's the deal, Mr. Idiot: Gottingen Terrace isn't gentrification.
Rather, Gottingen Terrace is precisely designed to keep low-income people in the neighbourhood, by giving them an affordable avenue to home-ownership. It is a project of the Creighton/Gerrish Development Corporation, a non-profit started by Grant Wanzell, which also built the very-low income apartment complexes on Creighton and Buddy Day Streets.
Wanzell has structured the financing of Gottingen Terrace such that the 48 units, which range in price from $129,000 for a one-bedroom home to about $198,000 for a three-bedroom home, will be affordable to people with a family income as low as $33,000. Moreover, he is specifically targeting prospective buyers with ties to the neighbourhood---that is, people in Uniacke Square moving up to a starter home of their own, people who have left the neighbourhood for lack of housing options but who want to move back, people with historic ties to the black business community along Gottingen.
If it succeeds, it will be a hedge against a neighbourhood character that is threatened from being overwhelmed by upscale condos. In other words, Gottingen Terrace is the exact antithesis of "gentrification."
Perhaps Mr. Idiot thinks he's a brave warrior against the forces of gentrification, but if he's a warrior, he's a stupid one, shooting his allies in the back.