People stood in the doorway, the hallways and, of course, the kitchen. Dozens of eyes and smiles greeted my sister and
I
with warmth and a touch of understanding. It was a party to celebrate our one-year anniversary in Canada.
More than two dozen refugee sponsors were there—people who had been working hard to help lots of families who lived in the refugee camps during the Syrian war, to get settled and start a new life. I see them doing this with love and ask myself how they can be so nice and kind after seeing so much misery.
And there are the English teachers from the Halifax Central Library who helped us speak this language and my friends from a local writing workshop.
It's weird because I
wasn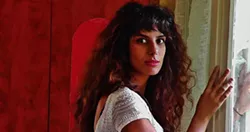 't sure if I would be able to celebrate this one-year anniversary. It was a difficult year—a new city and country, separated from family and friends by thousands of kilometres of salt water.
I was writing for a French-based website about the war in Syria. Although living in Halifax, I felt the dust from the conflict, the cries of the wounded, every day in my work. It was like I was still in Syria, only without the chance of me getting physically hurt.
I remember in the beginning of our time here were the social events—smiling at people's words because it was expected, laughing because it was expected and never believing I would fit in here. Never believing they would understand me, really.
But as the months passed, English became easier because of my patient teachers, and those social times with my sponsors were not awkward anymore. They weren't just my sponsors; they were my friends.
Things didn't always go smoothly. Sometimes I want to scream and run back home. I miss my friends, many still stuck in Istanbul. I miss my language and being able to have silly chats, arguments—being myself, as only you can with your friends.
Maybe because of my good fortune, I came to Halifax. It is one of the friendliest cities I have been to. It was easy here to make friends. My English teacher Therese, who became my close friend, laughed at many of my questions, saying "Your English is good already."
"Then why do I get confused about 'in,' 'of,' 'at,' 'on?'" I asked. She laughed and said, "So do many English speakers."
My Canadian experience is narrow, small really. It's just Halifax and a few other places in Nova Scotia. Much of my experience matched the first poem I ever read in English, during my writing workshop. It really was a lesson by my writing coach, Sheree Fitch:
"Do Your Best Under the Circumstances"
There is no land of perfect, child
There is no sea of ease
There is no candy apple trail
There's
broccoli and peas.
There is no suit of armour, child
There's
arrows and there's pain
When your heart is broken, child
Stay strong and love again
There is no perfect person, child
Not presidents or queens
There's only all us trying, child
To be human—human beings.
Sheree sees something many of us do not. We are Canadians, Syrians, Americans, whatever—we are this second, human beings first.
My first year here has been frustrating, depressing, enlightening, loving, fun and safe. As my first Canada Day approaches, I want to thank my friends at The Coast for allowing me to share my thoughts with you. I also want to thank my sponsors who have become my family and my friends. Without them, I would not be here, and I would not be smiling or 
celebrating.
———

Opinionated is a rotating column by Halifax writers featured regularly in The Coast. The views published are those of the author.