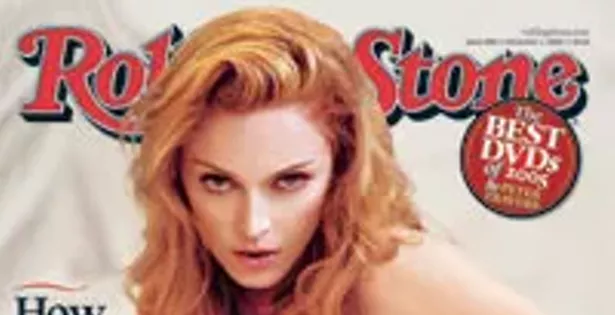 We love Madonna. Unabashedly. Her tenacity and ability to reinvent and reposition herself for as long as we've been alive is mind-boggling. And though the music peaked with Ray of Light, we admire her untouched status as a modern pop icon.
So we were stoked when our Rolling Stone showed up this week, with an airbrushed-to-shit Madge on the cover, looking hot. We barrelled through the issue — stopping at a very interesting, sobering short feature on how the iPod generation is going deaf at a ridiculous rate; build a campaign around that, Apple — and arrived at the centre spread. "How Madonna Got Her Groove Back" the headline declared. Awesome. And then we saw three horrible words, and our heart sank: "by Neil Strauss."
You may remember that we HATE Neil Strauss, the co-author of many a tawdry celebrity autobiography, sole author of a book on how to pick up women (ew!) and Rolling Stone's most shameless, navel-gazing, celebrity-humping reporter. He is even worse than Matt Taibbi, who is at least doing serious investigative journalism (his problem is his sophomoric frat-boy need to shock, dropping in a "tit" or a sex metaphor for "edgy" effect).
But Strauss. Oh, Strauss. It's reporters like him who make entertainment journalism so utterly disposable and disrespected, a guy who makes his stories sound like fanfic or a late-night blog entry, with a prose style one level above a college newspaper writer's. He makes us look bad by association. Only we are allowed to make ourselves look bad!
The story opens thusly: "Have you ever experienced a Madonna moment? Allow me to share one with you."
Already we're done. Done with you, Neil Strauss! The first sentence is so pretentious. Of course we haven't witnessed a Madonna moment. Unless we are Guy Ritchie, Rosie O'Donnell or Sandra Bernhard, then no. It's so smarmy, so smug, meant to be titillating but is just alienating. And the ninth word of this story, out of thousands of words, is "me."
Later Strauss comes back to his favourite subject, himself: inserting his own quotes, teaching Madonna how to tell when someone's lying, bragging about what he taught Madonna, explaining in painstaking detail his trips on Madonna's private plane and helicopter, and generally acting like one of those assholes in somebody's entourage who actually has no job. Strauss, you are freakin' Turtle! Stop killing this profession!
And RS, stop using this wank!
We're crazy for you: Anablog c/o The Coast 5435 Portland Place, Halifax, B3K 6R7.