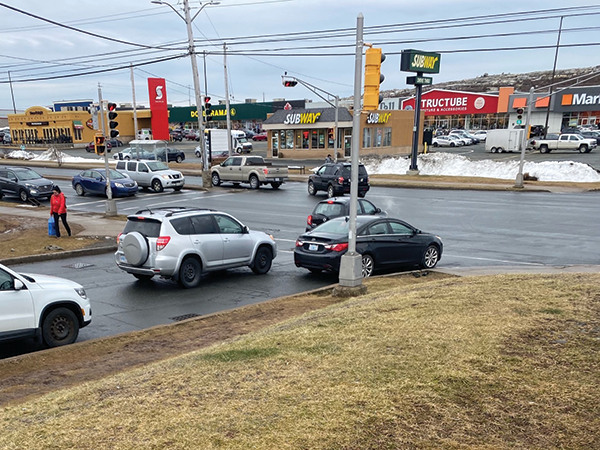 Q
uestion: What did the pedestrian's $100 bill say to the Walmart in Bayers Lake?
Answer: You ain't getting none of this!
Bayers Lake Business Park and Dartmouth Crossing are two of the busiest shopping areas in Halifax Regional Municipality, but are the most neglected when it comes to accessibility.
HRM has done well with taking care of the highly visited downtown commercial areas, but what about others? People who don't live in that area need to shop, but the municipality lacks infrastructure to keep them safe.
HRM needs to ensure safe intersections by installing audio signals for people who are blind or partially sighted. These areas need ramps and sidewalks with connecting walkways to the stores.
And what about the businesses? Do they know that they are losing money? Jennifer McNeil-Noble, the lead employment and technology coordinator for Canadian National Institute for the Blind (CNIB) says, "If you have universally designed spaces, you will attract a diverse population and increase spending power."
She says that Bayers Lake was not always as dangerous as it is today. "Ten years ago, it used to be safer because the 52 bus would go into the Superstore and Walmart driveway so you would not have to cross these roads." That bus has been cancelled and replaced by the 21 and 28 bus which, drop pedestrians off at bus stops. When pedestrians get dropped off, they likely have to cross a dangerous intersection to get to their destinations in the sprawling 2.36-kilometre-squared area of land.
In Dartmouth Crossing, the 56 bus is the only bus that serves pedestrians in the region. There are few crosswalks at the Crossing and those that are there lead to snowbanks.
Did someone scream "lack of planning?" Gerry Post, executive director of the Nova Scotia Accessibility Directorate, suggests the solution is to run shuttle buses through stores in both commercial areas, especially IKEA.
McNeil-Noble works at building relationships with businesses to promote the employment of people who are blind or partially sighted in HRM. She warns that the inaccessibility of commercial areas restricts the range of jobs open to people with disabilities.
Brian George, a wheelchair user—and one of the most daring men in HRM—works at a store in Dartmouth Crossing. You did not read the last sentence wrong. He says he thinks the biggest problem is there are no sidewalks that lead to the store. George has a fluorescent yellow flag holstered by his wheelchair.
"There have been times that I have gone to grab a coffee and I would see a customer later that afternoon saying, 'We barely saw you and would have hit you if we hadn't seen your flag,'" he says.
What does this result in? Less money for businesses, fewer jobs for people with disabilities and backlash for HRM.

To finish, one more joke:
Q: What did Dartmouth Crossing cry to HRM?
A: Help!