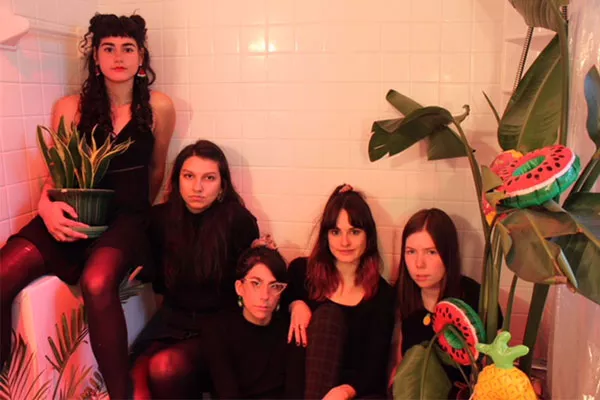 Juice Girls w/Jon McKiel, Steve Lambke
Friday, October 19, 10:30pm
Gus' Pub, 2605 Agricola Street, $15

The long-distance band relationship of Juice Girls continues to thrive and bear sweet treats.
The mostly Halifax-based dream-pop band just released its self-titled album on Monday night, ahead of Halifax Pop Explosion. With vocalist and songwriter Michelle Moraitis in town for the band's festival show, the group is back together where it all began.
"Me and Kirsten [Todd] met at a juice bar in Halifax, that's why we're Juice Girls," says Moraitis, who was working on a farm in BC over the summer and moves to Ontario next.
Moraitis and Todd bonded over a love of music, in particular shoegaze, '90s music and riot grrrl. They wrote songs while working shifts together.
"We were both going to local shows at the time and dating people in bands and we just felt like we experienced a lot of misogyny in the music scene and we weren't taken seriously," says Moraitis. "It was pretty dominated by men and we wanted to have a voice, so we decided to start Juice Girls. It was kind of born out of our friendship and our need to create and have a voice."
The pair met Lauren Randles (keyboards) through a mutual friend and eventually the lineup was rounded out by Randles' roommates Kelsey Crewson (bass) and Robin Fraser (drums). After writing songs long-distance over the summer using Skype and cafe wifi, the band is together for HPX with a freshly released debut full-length bursting with fruit metaphors.
Juice Girls recorded the album with an open mind, not tied down to structures or preconceived ideas. For most of the members, this is their first time in a band and playing music of any kind. "It's cool being on the same page of learning together," says Randles. "It doesn't feel scary because you're just in a supportive environment."