I headed down to the Seahorse to see York Redoubt, who were slotted in from nine until ten. I got there at 9:17pm in time to catch the last three minutes of their set. I mean, they were a great three minutes, but what city do these guys think they're living in? One where shows start on time? I did stick around long enough to hear several more minutes of people complaining how early it was, and folks piling in upset that they'd missed them.
Afterwards, I headed down the street to the foolishly-named, even more foolishly decorated Toothy Moose (Canadiana and weird colour-changing fluorescent lights? Yes!) for Vancouver's Said the Whale, who played a rousing set of indie rock with a folk and country influence. With a lot of energy, ocean-themed lyrics, and a nice hat on the frontman, these guys were a fun time, very Canadian and unpretentious. Good thing they were playing somewhere where you have to walk under a giant fake moose head to get in.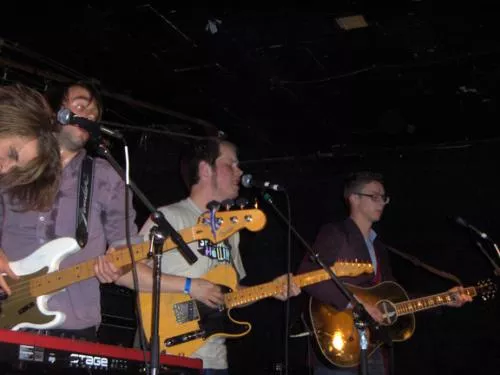 Sprengjuhollin= palace of explosion, or something like that
I went up to the Paragon after, where Icelandic band Sprengjuhollin had just started their set. I don't really get all the general hype about Iceland. I ended up there for a few days en route home from northern Europe this summer and found Reykjavik a bit pretentious and dull, but one morning I was sitting in a coffee shop and overheard a conversation between the barista and a German backpacker who couldn't pronounce the names of any towns in the country, and the barista was being making fun of Icelandic and being very good-natured in general. Sprengjuhollin had the same attitude, pulling out a sign on stage and giving the audience a little lesson in Icelandic in how to pronounce their name, which translates to something like 'exploding castle'.
They reminded me a lot of locals The First Aid Kit, poppy and upbeat, and though it's not my favourite style, they put on a good show, giving away t-shirts to audience members willing to wipe their faces on the sweatiest band member, and using the line, "Our country went bankrupt last year!" to try to sell merch. The best thing about this band, though, is their tour poster, where they dressed up as hockey players to advertise their Canadian tour. How can you not love that? Chatting with one of the band members later, he admitted he knew nothing about hockey, but they had the manager of the Icelandic national team to help them out.
Iceland- practically another Canadian province? Well, not quite.
Mates of State came on after. I was sitting with Matt Pollard of Windom Earle, who turned to me a couple songs in and said, "I think they need a guitar." A certain frontman of a certain other local band walked by later and gave us a look and yawned. Too much keyboard, too much pop music, and the band didn't seem like they were very excited to be there, or really acknowledge the audience for most of the set. They claimed three-quarters of the way through that they really liked Halifax, but it sounded forced. Most of the audience seemed apathetic.
Fortunately, sometimes when you're waiting around for your friends to finish talking to somebody, your friends get invited backstage to drink with Icelandic bands. Sprengjuhollin was looking for a vehicle to borrow for their tour, and a friend passed them a note with my phone number on it, but unfortunately my car wouldn't hold the band, let alone gear, and then we ended up downstairs in a room full of bands where we were the only Canadians. The backstage area of the Paragon is pretty unglamorous, but somebody did provide chips and salsa. Sprengjuhollin had a bottle of Iceland's national liquor, Brennivin, that had been confiscated by the venue earlier, but they'd managed to get it back after the show. You're supposed to use it to wash down fermented shark, but the Paragon had none of that on hand. It wasn't as bad as I'd heard, sort of a caraway flavour. We talked about Icelandic film and Canadian driving distances until we wore out our welcome, and headed home.
Tonight: The Weather Station, Divorce Records showcase, and possibly a not-that-secret afterparty you can find out about with minimal effort!