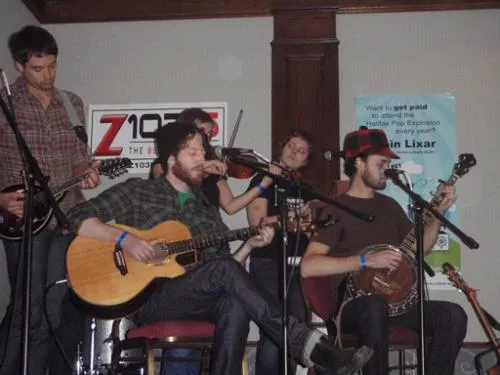 Slow Down, Molasses at the Citadel Hotel
Thursday night started out early at a last-minute acoustic showcase at the Citadel Hotel. I missed Yukon Blonde because I was reheating leftovers, but got there in time for The Paint Movement, who had a warm, polished country-folk sound, finishing off their set playing an acoustic like a lap steel and talking excitedly about seeing Citadel Hill earlier. The Plaid Explosion was going on in full swing. The last band up, Saskatoon's Slow Down, Molasses was a little, ahem, slowed down for me, with seven people on stage but sounding like one. Maybe it was the tiny stage, early show and fact that most of the show attendees were in other bands who took off after their sets to go set up for a later show, though. They play the Paragon tonight (with the charming Lake of Stew, who have a new album coming out) and promised they'd be louder.
The Weather Station forecast every sort of weather last night
Later on I went to the Company House for The Weather Station, the solo-ish project of Tamara Lindeman, who plays banjo with Entire Cities (Gus', 12am tonight). I had a love affair with banjos in the spring and summer of last year, ending with a week at a friend's in Winnipeg where I'd sit in a chair with his cat and listen to him practice every night. Then those banjo times disappeared and life went on, but The Weather Station puts me right back there. Understated and elegiac, this is kind of what I imagine it was like watching Joni Mitchell play an empty club in Toronto in 1965. The contributions from her Entire Cities bandmates on some songs are lovely, but the stripped-down aesthetic is completely fulfilling on its own.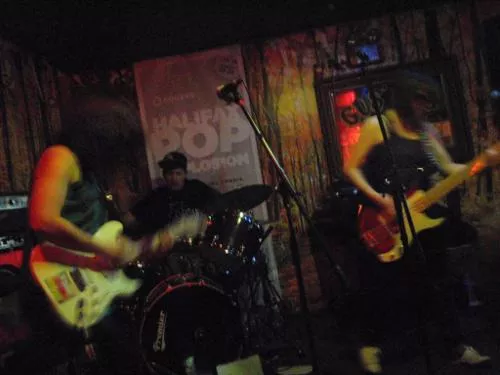 Dead Wife doesn't stay still long enough for good photos
After that, checking out Montreal's Dead Wife at the Divorce showcase at Gus' was far from minimal. They fucking killed. Smartly dressed, they took the stage and started screaming, the singer launching herself into the crowd, heavy enough to be hardcore but a bit too experimental and noisy. This was fucking loud. I'm no huge mosh pit fan, but I can't help but think it's pretty cool when the female-fronted punk band in dresses is the one starting the mosh pit. Plus, the guitarist is an illustrator whose work I've been admiring for the last couple years. Too bad this band isn't local. Here's a good interview with them by Chloe Lum of AIDS Wolf/ Seripop if you enjoyed the show.
Grand Trine had a hard act to follow, but handled it gracefully, if by gracefully you mean loudly and climbing over the audience. Frontman Tobias Rochman told me in a phone interview last week that their new record is a rock and roll record (as opposed to the two more weird experimental tapes they've released to date), and you could hear that in the set. It's not a huge secret that Rochman's former band Be Bad's split wasn't entirely amicable, so when a guy at the front yelled out, "Sounds like Be Bad!" a lot of people cringed.
The grand trine is an astrological term that's supposed to indicate talent and luck (to the best of my understanding, anyway). When I talked to the band for the Obey Convention in May, Rochman suggested the band was kind of cultlike, living together, playing together, touring together and hanging out together, but since then they've acquired a new drummer, Raf Katigbak (also the Canadian editor of Vice magazine), and a saxophone player, Cabral Jacobs. "We had to move out of our old apartment so we all went our separate ways," Rochman told me. Their LP Sunglasses will be out early next year on Divorce, for those who enjoyed or missed the two sold-out tapes they've released so far.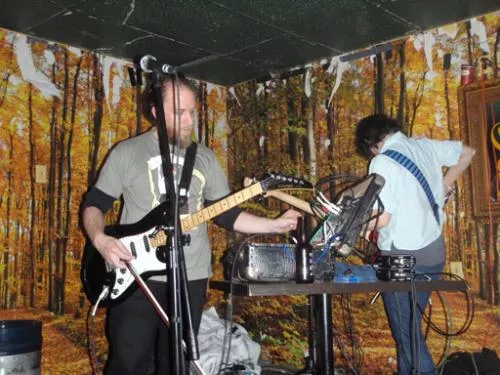 Rounding out the evening was Vancouver's Nadja, who toned things down with a set that involved no screaming or stage-diving. They were last in town for the 2008 Obey Convention, and Aidan Baker, half of the two piece, has a new split LP with New York's Noveller out now on Divorce. With their drony, doomy sets of continuous, almost pretty sound, they don't stop until it's over and you're suddenly shaken from your trance. Baker plays a free solo show at Eyelevel Gallery at 7pm tonight.