As I headed out last night to St. Matthew's, I was thinking about all those nice songs about Halifax out there, and how none of them were written on a night when it's pouring rain and you have to get downtown, an unbelievably long way from wherever you happen to be, when you decide to bike to get there faster, but end up getting wetter than you otherwise would have and having to walk the bike anyway because the brakes don't work in the weather, or when you have to wear a winter coat because it's February and cold, even though it's pouring and you know you'll be wearing damp wool for days—-when you know that whatever you do, you're going to have wet pants and shoes all night. (If I'm missing a song about those Halifax nights, let me know.) So it was one of those nights, and I sheepishly filed in a couple minutes late to Timber Timbre's set and was temporarily transported from my soggy shoes and wet jeans.
There must be something about St. Matthew's that impels artists to put on a performance that's somehow more beautiful and transcendent than their usual shows, and Timber Timbre is pretty transcendent to begin with. With an amazing bass echo in the building, he was calling out "I was a spook for you, another ghoul," as I came in. The haunting atmosphere of the church was perfect for this show. A quiet and enigmatic figure, he worked his way steadily through his self-titled album in a long, lush set—- almost perfect, although the bird calls worked into the last song were a bit much and it would have been nice to hear some new material too (this being the third time I've seen him touring out east this year). With scarcely any light in the church, it wasn't even worth trying for photos without a tripod.
But getting back to songs about Halifax, Jenn Grant's songs are the kind that make you think this is always a warm fuzzy town where everyone shuffles between shows and swimming dates at Chocolate Lake, with the worst of the weather being a light and romantic drizzle. I hadn't seen her play in at least a couple years; mostly I see her at cafes or the market. With the quintessentially Haligonian "Dreamer," songs about crashing her mom's car around the corner from the church, and mice problems (which I sure wish I couldn't relate to), Grant brought out the best of Halifax in her songs and stories that prefaced them. To compliment Timber Timbre's ghostly sounds, she and her band continued the Halloween theme by passing and tossing Halloween candy around the audience before they began playing.
Olenka and the Autumn Lovers
I went to Coconut Grove next to catch London, Ontario's Olenka and the Autumn Lovers. I was intrigued by their claims of mixing North American and eastern European folk elements, and they did not disappoint. With a cello and violin providing the eastern Europe-type string sound, they were friendly and cheery between songs while they rushed through their set, making me wish I'd caught the house show they played with Entire Cities and Bruce Peninsula in Saint John that got broken up by the cops. They could be a little faster or noisier, but I'd definitely see them again.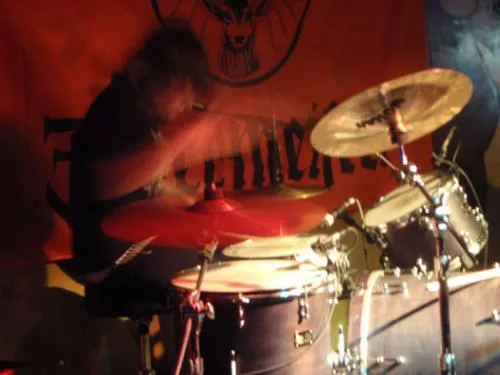 Maya Miller of The Pack A.D.
Pack A.D. guitarist Becky Black
Next was the Toothy Moose for Vancouver blues-garage rock two-piece The Pack A.D. They just sound so good every fricking time they play, and even some of the jocky dudes who'd come to the venue to get drunk in the back were watching intently and cheering loudly. Black and Miller have total band chemistry, and everything from Black dancing on the drum kit and Miller's half-assed stage banter ("I'm just the drummer!")/ attempts at campfire songs is awesome. They're rock and roll cool with a total lack of indie rock pretension, which is pretty refreshing by the fifth day of a festival.
Seth Smith looks like a ghost in every Dog Day shot I got, but this was the least ghostly
I'd wanted to go see Japandroids and You Say Party! We Say Die! at the Paragon, but distance and rain made me decide I'd stick around downtown and see Dog Day at the Seahorse. Playing their first hometown show with new drummer Rob Shedden, there was a lot of anticipation in the room, but Shedden nailed it, the crowd was wild (the kind of wild you get at a Dog Day show, not the kind Japanther played to in the room the previous night), and it was a pretty satisfying last gig to catch. They had the same experimental projections that accompanied their Obey Convention show in May, which make for some cool visuals.
Going out into the downpour, I briefly tried to talk my friends into checking out Diemonds down the street—-which had, apparently, already been cut off anyway—- but instead we waited out the rain for several minutes then headed to an afterparty with A/V at the Rock Garden. I think Diemonds showed up at that late in the night, but I wasn't keeping much of a lookout for high-profile out-of-towners. I got home at 6am. I'll sum up my festival highlights later, but a certain special guest still in town is playing a house show, where the Pop Explosion never ends. Tomorrow it's back to the real world for some pretty unglamorous data entry.