It's already at that point in 'Splode Week 2010 where you start to lose track of what you saw and where you went. I actually had to take a look at my hand and use all the residual stamps and stuff to figure out what happened first next last etc. It's like a road map to Garbageville.
So yesterday I bopped over to CKDU around 4something and caught the last couple of Bad Vibrations songs. The room was full of tired but relaxed people, quietly nodding their heads, and everyone was drinking coffee (my companion fortified himself with a KFC Double Down, but that is another story that does not require sharing now or ever.) Cursed Arrows seemed to be feeling out their set, trying a few new things and they closed off with a cover of PJ Harvey's "C'mon Billy" with Ryan on drums and Jackie on guitar. I like PJ so I was a puddle on the floor.
The secret guest was Mark Sultan. As he was setting up he seemed mildly annoyed and I was later told that this was due to some kind of miscommunication regarding something or other. I don't know anything about this except that Sultan spent most of the set cursing and looking fairly pissed off. Not a happy unit. It felt pretty awkward so we left. As we pulled out we heard the dwindling strains of Sultan on the radio, singing halfheartedly, and then the whole thing sort of petered out. I felt bad for the programmer who came on afterwards - he was like, "How about Mark Sultan? That was...awesome? Thanks for...coming..."
Anyway, I think we all know that putting on shows is hard, playing shows is hard, and it all becomes doubly hard when it's the afternoon and everyone is hungover and maybe things don't work the way they should. Bummer but it happens. Bottom line: I like these afternoon things, the CKDU folks seem very happy and excited about them, and you should go to them. Dog Day today! Free! Fuckyeah!
On a happier note it was beer time (okay, yesterday was HALF sober, what do you want from me?) so we went to the Citadel Hotel and drank beer and checked out some TV Party. Co-host Ryan played one of the most intense videos I've ever seen in my life, filling me with more shock and confusion than Gwar ever could;
PUT IT IN THE PIZZZZAAAAAaaaaaaaa.
Then Picnicface showed up straight outta the airport and played some hilarious roller-skating movie clips, as well as an absurd Tom Green clip from when they were at the Canadian Comedy Awards this weekend (he was hosting) and he kept asking them to "put me in your videos!" Oh Tom Green, I wish you still walked with a swagger. But I digress.
Uh oh! GWAR time! I was excited. The way into the Palace was smooth and not at all the security clusterfuck I had been expecting. Meanwhile the comely bartenders were gunged up as much as they could be - black clothes and gently torn fishnets. It was weird and kind of funny. I bought an $11 vodka Redbull because I'm an idiot, and stood on the balcony taking in Mobile Deathcamp who are very grindy, fast and good. The lead singer/guitarist in particular seemed very happy to be here. "Hi! WE'RE MOBILEDEATHCAMP FROM CLEVELANDOHIO!" he said about 40 times. Halifax local/whiskey-drinker Mingus informed me that he is in fact Gwar's bass player, which makes sense as he is the largest man I have ever seen in my life.
Then it was Bloodhouse time, so we got our stamps and ran down the hill to the Seahorse. It was just a beautiful chain of events. It was such a perfect experience that I don't even know what to say. It was a very good opening set. The band started on time, the energy was dark and spastic, they sounded great, everyone was happy and slowly moved closer to the stage and started head-banging in that funny way that Bloodhouse makes you do (a slow back-and-forth dip like the Drinking Bird.)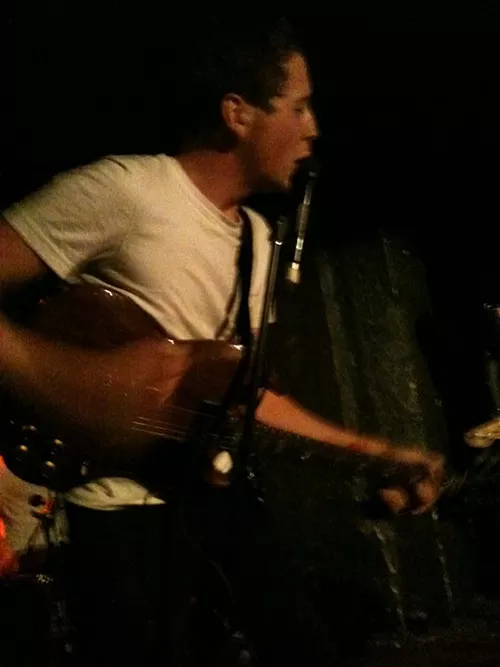 Back to GWAR! The Casualties were just wrapping up with "Blitzkrieg Bop" when we got there. The bouncers started putting on rain ponchos and covered the monitors with garbage bags. When you are seeing Gwar for the first time and you are standing up front watching people do this - regardless of how "prepared" you may or may not be - it is a sight that fills you with equal parts dread and giddiness, as well as the realization that "I'm an adult who is about to be covered in blood and space jizz by a seven-foot-tall foam monster with a Cthulu penis."
Then the band came on and well, yep:
Yes, I know that photo is upside down and I AM TOO LAZY TO FIX IT. YOU GO UPSIDE DOWN.
After 20 minutes of this, you kind of get the idea. We left - but not before my friend got her nose broken by a rampaging hooligan bro in the pit. Slightly dazed, she insisted we continue onward, so I took a photo of her, Eric and two shitfaced guys outside. The one on the far left (I think?) is the guy that broke her nose. But look, now we're all friends.
I am getting so tired now. Anyway, we went to see Teenanger and long story short I thought they were really fun and sloppy. They sound like what might happen if Southern Culture on the Skids had a dirty romp with the Stooges and then everyone got really loaded. Also Doug from the Constantines (RIP, sob!) drums for them. The lead singer was a fun jerk type and there was a lot of yelling back and forth about Truro. Both band and audience looked great. Then I went into the bathroom and someone had vomited all over the door. The smell was somewhere between "red wine" and "abattoir" and the whole bathroom was full of trapped, well-dressed women, gagging. Goddammit Seahorse, your bathrooms are the worst.
Apparently Ty Segall was quite a party with bloody faces et al, so if any of you were there, please share your funzies in the comments. We wound up at home where I sort of took a nap, and then Black Moor at Gus'. I love those little guys with their jean vests and ridiculous abilities. Great last-minute headliners very much appreciated by their audience (many of whom were still smeared in Gwar blood.)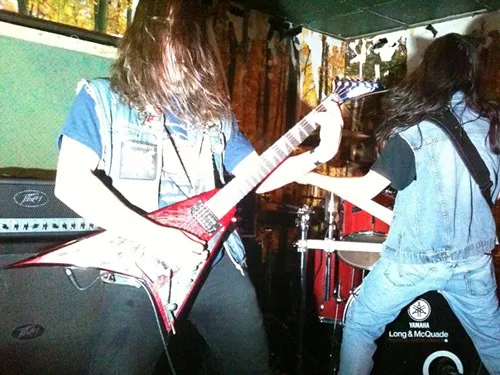 Tonight: I go home and sleep for a bit, my brother comes, Old Man Luedecke, Foggy Goggles, Dog Day, Golden Dogs, Dog Bands, Dog Tired, Dead.