After watching what is singlehandedly the most disgusting Kenny vs. Spenny episode of all time, we took off, still gagging, to CKDU for the first free lobby show of the year featuring the Weekend Dads and Cold Warps. The bands calmed my nausea and provided a welcome kick in the face. Cold Warps tried a few new tunes and navigated the bumps with many funnies. Can't wait to see them at Reflections tonight. You can hear their new demos here.
We went back home and I pounded a giant Red Bull (after taking two caffeine pills an hour earlier - don't do drugs) because I'm a stupid idiot. We went to St. Matt's for Rich Aucoin's album release extravaganza and I proceeded to sit through some very good but very quiet solo acts literally quaking from the amount of stimulants running through my bloodstream.
The openers included Jenn Grant and Dan Ledwell, doing a terrific and very Tori Amos-y version of "Eye of the Tiger", Terror Pigeon Dance Revolt's Neil Fridd, who did a sweet, Okkervil River-ish version of one of his songs on piano, and It Kills/I See Rowboats alum Will Robinson, who reminded us that his voice is still lovely. A Jenn Grant video is posted below. Many thanks to whoever took this - please identify yourself so I can credit you!
Once Rich came onstage to take the audience through a very endearing run-through of the singalong parts of "Push," "We're All Dying to Live," and his other hits, a little thrill ran through my row: this is actually happening! Once the musicians came onstage it was all over. I don't even know where to start. The whole night was basically like a Halifax musician version of that Muppet family Christmas special where all your favorite characters got together in the farmhouse to hang out and do what they do best. Rich's show had the same effect that this program had on my six-year-old self: I was elated.
Every aspect of the show was so well-executed that I don't even know which part was my favorite - Halifax's best singers lining up in front of the mic to do individual harmonies; the likes of Adrian Bruhm, Sean MacGillivray, Dave Ewenson, Myles Deck and Stephanie Clattenberg taking turns beating the shit out of three separate drumkits and laughing; the dancing horn section; the spooky choir lining the walls behind the pulpit; Rich jumping in the crowd onto the pews, imploring us to sing and sing and sing; the crowd of people flooding the aisles to dance; the face-splitting smiles of everyone around me. I know it sounds gushy, but it really was great. The only person who could ever pull something like this off is Rich Aucoin, a musician whose enthusiasm for his work is matched only by his generosity of spirit. And he nailed it.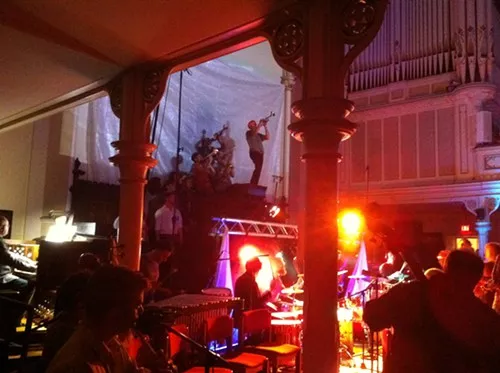 We raced from the church for Hind Legs' set, opening for Wildlife at the Seahorse. The crowd was sparse at first but filled up the dance floor by the end. I love local HPX sets when you can see the band has won a pile of new fans. At the end of the set, frontwoman Hally Jones was surrounded by admirers. Adorable.
Then it was off to Reflections for Bloodhouse/Cousins/Thee Oh Sees. The Bloodhouse crowd felt like Toronto - people were kinda just standing there. Raw deal. They did a good job anyway. Brendan Neima's hulking Yokozuna basslines really rattle through a room.
MEANWHILE:
My traveling companion Eric Duncan was posted up at Windom Earle's show at Gus' Pub. He later joined us at Reflections and said that it was the best Windom Earle set he had ever seen, featuring some great new songs, a pantless Nathan Pilon, a delighted crowd and a singalong of "Can You Feel The Love Tonight" replete with lighters. I am really really bummed that I missed it, but at least there's evidence in photos and video.
Edit: Wait, no video, my computer is broken. Maybe later!
Cousins were up nexy at Reflections, lean and mean after their recent tour. Oh they were so great. I love the combination of Leah Dotey and Aaron Mangle together - they remind me of excited little kids, joyfully reveling in the racket and the mess and having so much fun. Such killers. Fantastic. No shitty camera photos for this, unfortunately, as my phone went dead.
Then Thee Oh Sees came on. And it was so crazy. And I thought I knew what to expect, and I really had no idea. I was yanked into the righthand corner of the stage behind a speaker and then the room exploded. Bodies launched themselves into the air, microphones swayed and the crowd surged, there was blood everywhere, girls moshed and exposed their panties, everyone was screaming, and John Dwyer and co. plowed through their rousing, rollicking, weirdo songs, barely stopping to breathe and totally unshakeable. Words again fail. It was wild.
So that's how Wednesday ended - in a splash of blood and sweat, everyone smiling and shaking their heads. It's Day Three now. It's only Thursday, everyone. Where the fuck do we go from here?
OVERHEAD:
+ Via text: "Just got here and I think Nathan is naked. Oh wait, no, he's almost naked."
+ "I was having a pee and this guy rolled up behind me and asked me for yayo."
+ "This Chinese guy is getting arrested outside! Right now!"
+ "I dunno, I just came here with my friends, they're a bunch of art fags."
+ "I'm gonna fucking launch off this block here."
+ "No you're not."
TONIGHT: Getting daytime drunk with the Coast gang to Quaker Parents and Bloodhouse at the Company House, 6pm; Cold Warps and the mighty Jeff the Brotherhood at Reflections; Bonjay, the Seahorse and sex magic.