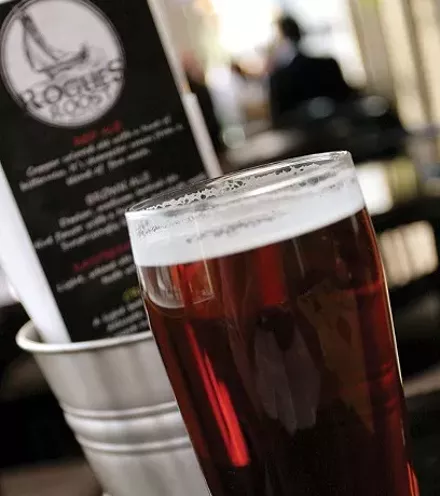 The impending bulldozing of the Doyle block of Spring Garden Road means the end of
Rogues Roost
(5435 Spring Garden Road).
The Herald reported
early this week that the
16-year-old watering hole
and brewery, which was
acquired by Murphy's Restaurant Group
in late 2014, would be closing permanently before October 1. A call to Rogues reveals the last day at the bar will actually be the very nearby Sunday, September 6.
This sucks, a lot. But let's cherish the days we have left, shall we?
1. First and foremost, go to
Brian MacKay
's Wednesday night trivia. Hell, go a couple of times so you can really get a glimpse of this intense little community of nerds (FYI being intense and a nerd are both amazing qualities in my books). But, don't show up at 9pm expecting to get a table, let alone a seat. Regulars at Brian's weekly quiz night know to show up at least an hour in advance, if not earlier. Have dinner. Build a well-rounded trivia squad, brainstorm a clever, punny (and probably groan-worthy) team name, put your phone away and prepare for a delightful night of brain exercises
2. Drink the classics. Hit up happy hour (Monday-Sunday, 4-6pm and during trivia, 9-11pm) and sample a Red, Nut Brown, Raspberry Wheat, Cream Ale or IPA. Some of the city's earliest craft beer memories were made here thanks to Lorne Romano's delish creations. Pour one out (or, in your mouth) as a farewell.
3. Sit on the expanded patio (AKA that area where that Booster Juice used to be on Queen Street) and get some rays on your cheeks. This, like sunshine, is a luxury in comparison to Rogues' former outdoor space, a tiny cluster of sidewalk tables.
4. After marveling at how oddly short the stall doors are in the bathroom (or, is that just the ladies room and #mygiantlife?) float on over to
Tom's Little Havana
and have a drink there. These two neighbourhood joints will never be together again —
though, Tom's and The Fireside will
— enjoy how easy's they've made it for you to bask in both establishments.
5. People watch until you can't people watch any longer. Grab a window table, order some sustenance and get
creeping
. This is the front row to Spring Garden Road, and all those jaywalking, book-loving, grande-two-pump-extra-whip-hot-drink-getting people. It's like a reverse aquarium, and you're the curious orca.