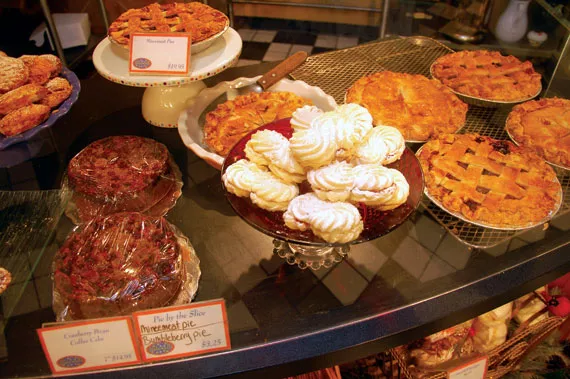 Now that it's the Most Wonderful Time of the Year, shifty-eyed tots around the world are breaking into a nervous sweat whenever the words "naughty or nice" come up. But before they take that long Christmas Eve walk down the red and green mile to their rooms, think about giving the naughtier children in your life the opportunity for a last-minute pardon from Santa. Consider the time-worn holiday tradition of bribery.
Cookies have long been the most valuable Christmas currency, what with Santa's chronically sweet tooth and preternatural immunity to diabetes. And while warm homemade cookies are doubtlessly the gold of the North Pole's financial system, some of us aren't exactly rich in the skill it takes to make them. But with a bevy of incredibly talented local cookie-smiths in Halifax, delicious cookies can still be had.
I gather some helper elves---milk and insulin shots in hand---so we can sample selections from Noelle's Custom Cookies in Waverley, Susie's Shortbreads (1589 Dresden Row), jane's next door (2394 Robie Street), Local Jo Cafe (2959 Oxford Street), Bakewell's (Spring Garden Place), Smith's Bakery (2525 Agricola Street), Happy Gourmet (Halifax Farmers' Market), Scanway Catering (6088 Quinpool Road) and Two if By Sea Cafe (66 Ochterloney Street).
We sample more than 30 cookies, including shortbread, sugar, meringue, macaroons, ginger and chocolate chip. We're looking for holiday snacks that are up to the task of yanking those pesky sugarplums off Christmas's centre stage with a candy cane hook. Sadly, we're underwhelmed. Most of the cookies are either too-big cafe cookies or assembly line catering cookies that bore.
The only melt-in-your-mouth cookie is Bakewell's Viennese shortbread ($2.55). Now this is the kind of cookie you want to leave at a milk-soaked holiday altar; it would surely pay dividends like Cabbage Patch Kids, Tickle Me Elmos and Wiis. jane's next door's plump little shortbreads (10 for $5) are also buttery and delicious.
We aren't as impressed by the shortbreads from Smith's Bakery, Scanway or Susie's Shortbreads, which all fall shy of our expectations. The large snowman-shaped gourmet cookie ($5.75) from Susie's was especially disappointing, chalky and dry and made worse by a weirdly filmy marshmallow fondant. The smaller cookies (75 cents) are better.
Tooth-tormenting icing strikes again with the gingersnaps from Noelle's Custom Cookies ($5.75). The beautifully decorated cookies have the crisp snap that a good ginger should, but the spicy goodness is a mere whimper against the scream of the sugar.
Local Jo's ginger cookie ($1.50) is also too sweet, with golden nuggets of candied ginger giving just too many honeyed punches to endure in such a big piece. Scanway's simple ginger cookies ($3 for six) are almost a relief by the time we eat them. Topped with crackling sugar and packing a sweet, tingly spice, they are delicious.
Happy Gourmet Cookies charm us with their unique candied ginger and lime cookies and their toasted pecan butter flavours (10 for $5). These small, crunchy cookies might not be the most glamorous or traditional cookie to set out for Old Saint Nick, but he'd be delighted to get some.
If Santa requires vegan or gluten-free cookies, Satisfaction Feast has some reportedly delightful chocolate peanut-butter cookies, the Heartwood has plenty of vegan options and Bakewell's makes a gluten-free macaroon the size of a snowball.
If by chance Santa himself needs to do a little bit of gift outsourcing, all of my elves agree that Happy Gourmet Cookies and the little sacks of shortbread at jane's next door would both make great, affordable stocking stuffers.