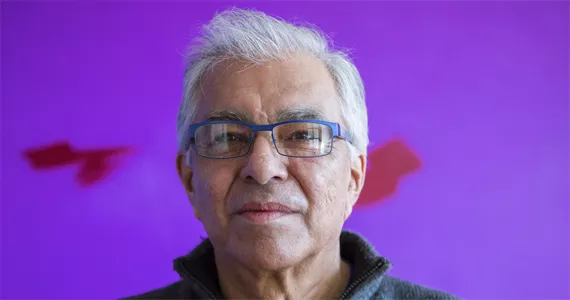 Robert Houle turned painting into a full-time gig after selling his first piece—a small eight-by-10-inch acrylic titled "Red is Beautiful"—for $90 back in the '70s. Since then, he's served as the first curator of Contemporary Indian Art at the Canadian Museum of Civilization, garnered international exposure and most recently won the Governor General's Award in Visual and Media Arts for his 40 years of work in the arts. The award ceremony honouring Houle and seven other distinguished artists took place earlier this week in Ottawa, and starting Friday you can see his award-winning artwork at Studio 21. For him, it's a product of his love for art and his desire to make peace with his painful past.
How did you feel when you found out you won the Governor General's Award?
We found out last fall, and it was embargoed. It's wonderful to get recognition from your peers. I'm very honoured. You couldn't ask for anything more than recognition from your colleagues.
The award recognizes your lifetime of work, and your residential school series focuses on the traumas you experienced growing up in residential schools.
High school was pretty good—it was elementary school that was pretty bad. I used to have a lot of difficulty talking about it. What I can say is I can now sleep without the light on. I would relive the fear [making the paintings]. I could feel it in the back of my spine as I was doing the drawings. The residential school system was a social contract to brainwash us—to assimilate us. If you spoke your language, you were punished. The priests would tell you, if you went to ceremony, that you were worshiping false gods.
What do you want people to learn from this series?
I've learned that it's about decolonizing yourself. For the first time, I began to talk to myself when I was painting, and then my body would decolonize itself with my voice. The thing I learned from the drawings and what I experienced during the paintings is I'm in no position to judge these people [of authority from the residential schools]. And I also realized that the most difficult thing to do is to not wish for punishment or evil or hell on the predators or the abusers. In my younger years, I knew all of these things that happened to me…I never realized how deep they were. But I'm fine now, and the most difficult thing to do was to let it go so I can move forward.
Will you be in Halifax at all while your exhibit is at Studio 21?
I would like to. It would be nice. I really like Halifax, I was there years ago. I stayed at NSCAD while I supervised a dissertation.
Is there anything else you want people to know about you or your work?
I know that what I do, and what I express and create is totally based on my own history, culture and my own desire—and I do the best I can.
Robert Houle's residential school series
Sat April 10-Wed May 6
Studio 21 Fine Art Gallery
1273 Hollis Street

Interview conducted and edited by Hillary Windsor