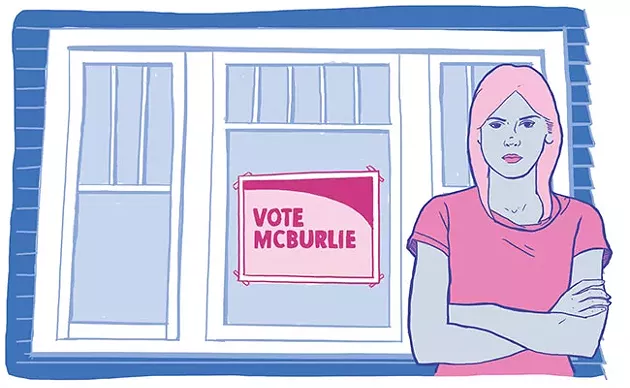 Dear Ask Hole,
I've come to accept my downstairs neighbours' love of loud country music. Live and let live, I say. Only now it's election season, and my good neighbours are proudly displaying a campaign sign for a political candidate and party I detest. A party I'd wager the whole neighbourhood detests. What should I do? Should I take the sign down before film industry workers and schoolteachers start egging our apartment building?
Yours,
Stupid Infographic Going Nowhere
Dear SIGN,
I've recently learned—from reading a number of delightful novelty license plates—that Canada is a FREE COUNTRY where FREE SPEECH is more important than YOUR FEELINGS. Also, if WHEN I DIE, you could BURY ME UPSIDE DOWN SO THE WORLD CAN KISS MY ASS, that'd be great. Based on what I've gleaned from these tiny, aluminum works of art (plus several mesh-back hats), there's not much you can do to stop your neighbours from putting up whatever sign they want. In fact, I saw one license plate that just said COOTER, which is the sign I plan to put up! Screw my neighbours, and best of luck to COOTER in the election! Although your neighbours have every right to post the sign, I'm happy to provide a list of things you can do to publicly demonstrate your displeasure with it:
1 Grab a Sharpie (red is preferable) and change all of the As in the candidate's name to anarchy symbols. This way your neighbours will know that at least one person in the building is capital P Punk and capital N Not Having It! Anyone strolling past your apartment will gasp and—clutching the collar of their shirt—proclaim, "Dear me! This isn't my father's election!" This is the guaranteed effect of sliiiightly longer As with circles around them.
2 Consider creating a haunted video, a la The Ring, and leaving it in your neighbours' mailbox. This may take some time and effort, but will have a considerable impact. You can include quick jump cuts between the sign and, say, a box of dead beetles, or the sign and an extended close-up of a horse's eye. Get creative! The key will be a prolonged, stationary shot of tuition hikes and cuts to mental health programs climbing out of a creepy well. BONUS POINTS: If they throw the video tape out, try to find a way to put it back into their apartment (on the bed works best) for maximum "OMG so haunted" effect. Vibe of video should be: Before You Die You See THE SIGN. OK, that actually just gave me a great idea.
3 Weird Al your neighbours with a parody cover of "The Sign" by Ace of Base!!! BOOM. Lyrics could include: "I saw the sign, and it opened up my eyes to your lack of concern for arts funding." Whatever you feel! Play this song on a 24-hour loop with your speakers pressed against a shared wall. They will get the message.
In conclusion, any/all of these ideas are probably easier and more effective than knocking on your neighbours' door and having an open and honest discussion about your concerns. Treating them like human beings and trying to understand each other's uniquely formed needs and opinions would be terrifying. AHH! Definitely don't do that! Do the Ring video. And also, VOTE COOTER!
———

Opinionated is a rotating column by Halifax writers featured regularly in The Coast. The views published are those of the author. Send your 
awkward social questions to 
askhole@thecoast.ca and we might answer it in a future column.