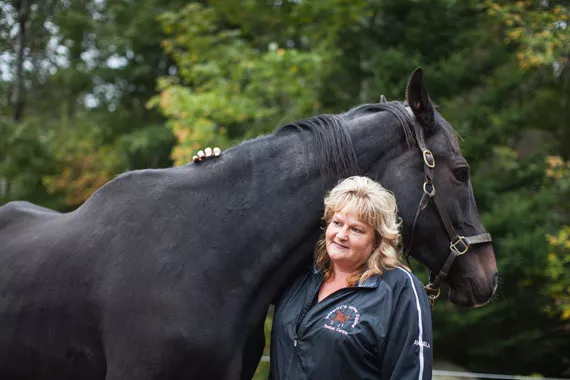 When it comes to animals, Angela Welburn can't, and won't, say no. That might be why her Chester Basin home currently houses four dogs, eight cats and eight horses. Make that nine horses, as of this month.
A horse-lover her entire life, she took her passion up a notch five years ago when she officially launched her non-profit farm for rescued animals, Integrity's Haven Equine Rescue Centre, to the public. (Welburn first registered it in 2003.) Her penchant for giving pets—especially horses—a second chance, though, started way before that.
Welburn got her first horse, Whisper, after falling in love with him while she was volunteering on a llama farm, putting in extra hours to pay for him. Her second one was a rescue. She was warned about Champ's bad behaviour when she responded to a want ad, but went to visit him anyway.
"He put a good beating on me, my friend knew I was hurt. And they just told me to get out of the stall, that we're done with the horse," she says. "My friend looked at me and said, 'You're gonna get that horse aren't you' and I said, 'I have to. Why is that horse that way, and what did they do to that horse to make him that way?'"
It turned out that without Welburn, Champ was headed for the butcher—an all-too-common destination for abandoned and surrendered horses—so she stepped in and took the risk that she says started everything Integrity's Haven stands for. Now, she says, "I'd put a two-year-old on that horse."
Because of how expensive they are to care for, and the amount of space that they require, Welburn says many people surrender horses that they can't care for, control or keep healthy. Often times they're malnourished when she gets them.
"I will take in a young horse, young dog or cat, but my heart is into rescuing the seniors and the sick. They're the ones, people don't want to spend time and money to fix," she says of her small rescue with a big heart, which she runs with the help of her partner David Mailman. The pair tries to adopt out the younger animals they've nursed and rehabilitated. "But the sick ones, or injured, they stay here until death does its part. That's how I would want to be treated. It's respect."
Welburn and Mailman have operated their rescue out of pocket since day one, but as they reach their maximum capacity for horses, they've begun taking donations to help with the many associated costs so that they won't have to turn any away.
"The bond that happens, and the gratitude you can feel from them," says Welburn. "Unless you do it you'll never understand."