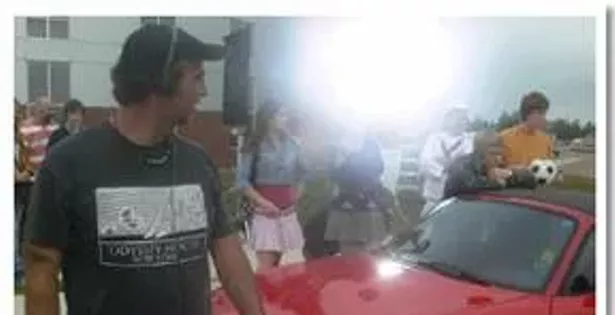 This year's Atlantic Film Festival line-up is that good, I'm going to set aside my Stephen Harper arts-cut ranting to focus on the incredible number of local films that made the cut, and then figure out how the heck I'm going to see them all.
Ann Verrall's first feature Nonsense Revolution, produced by Thom Fitzgerald, starts with the tragic death of a young man, who grows angel wings and helps his friends through that tumultuous time before college begins. In another Fitzgerald production, writer/director Michael Melski's young protagonist is dealing with his parents' unusual career choice, in the suburban comedy and Melski's first full-length feature, Growing Op. Carl Laudan's Sheltered Life examines the impact of violence through those who live in a women's transition house.
Compelling documentaries are also on the list, including Eric Bednarski's The Strangest Dream, about peace activist Joseph Rotblat and Nova Scotia's Thinkers Lodge, and Richard LeBlanc's doc about Cubers, produced by Walter Forsyth, which follows fast-fingered Rubix Cube competitors. John Walker deconstructs history and documentary-making in Passage, his investigation into the 19th-century exploration of the Northwest Passage and the loss of two British ships in the Arctic ice. Short films are traditionally one of the most popular draws at the festival, and this year is no exception with Cory Bowles' The Scavengers, about three boys who think they've discovered a dead mermaid (apparently the mermaid is amazing). Jason Eisener's Treevenge arrives just in time, before the malls fill with Christmas decorations and bad jingles. In a twist on the age-old superhero tale, Namir Ahmed's Golden Age sees two elderly superheros duke it out for the last time. Jay Dahl switches from comedy to horror (are they ever that far apart?) in the 10-minute teaser for his upcoming film, There Are Monsters.
At this year's Sappyfest, all the talk was about 6015 Willow, the ultimate snapshot of the current Halifax music scene. If music is your thing, then watch for new music videos or films set to music by The Just Barelys, Tanya Davis, Amelia Curran, Tom Fun Orchestra, Matt Mays & El Torpedo, and don't forget to play spot-the musician in the short film, Gracious (you can also play spot-the-Picnicface in a bunch of shorts). Always popular, the annual 10x10 with Norwood Cheek pairs up 10 emerging filmmakers with musicians to create music videos in a stressful short period of time.
Dolly Parton isn't just the best country music singer ever, she's also a literary philanthropist, delivering books to preschool children, as told in Natasha Ryan's short doc, The Book Lady. Speaking of fascinating lady types, I'm excited to see Jane Kansas' personal collection of Harper Lee memorabilia on the big screen, in Andrea Dorfman's short, Lost + Found. And if nothing excites you more than familiar sights, **Daun Windover**'s collection of north end stories, Dirty Laundry, was shot on Agricola, and Francois Gaudet's Nuit Blanche, goes on a nighttime tour of the city, using light as an artistic tool.
AFF tickets are on sale now, in person at the festival box office (1599 South Park), but check atlanticfilm.com because times vary based on the day. And this year, coolest of cool, purchase tickets at Video Difference (6086 Quinpool), where you can also rent films from previous fests to get in the mood. Buy online or call 422-6965. Regular screening tickets are $10; gala films and special presentations are $15; the opening night party is $25, unless you deserve the VIP treatment, and then it's $50.