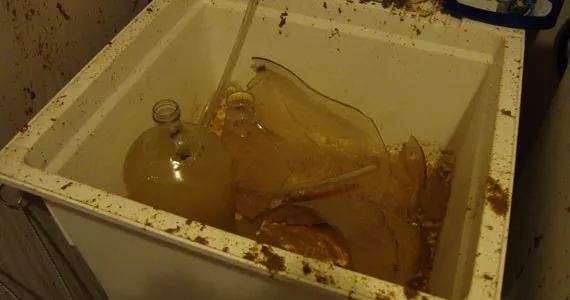 Halifax Explosion Tripel
as told by Steve Trickett
I finished brewing a Belgian tripel and transferred it into a carboy. I attached a blow-off tube to the bung and ran the hose into a jug of sanitized solution to catch any runoff, then called it a night. Next morning, the yeast cake had bubbled up through the blow-off tube and into the jug of solution quite a bit. I to put the carboy into the laundry tub, just in case it overflowed. The bung was still on nice and snug.
That evening, I opened the door to the laundry room, and... glass chunks were embedded in the wall and ceiling. Yeast sludge, chamomile flowers and assorted other debris littered the walls and ceiling. The carboy had literally exploded!
A few large pieces of chamomile flower had been sucked up into the blow-off tube and expanded. The pressure had built up so intensely in the carboy, and the gas had nowhere to go. Man, was I ever glad no one was in the room at the time!
Lesson learned: Dude, stop brewing with effed up ingredients all the time and just brew a basic red ale! More importantly, make sure that you have a nice big blow-off tube if using a carboy as a primary fermenter, or else always use a bucket if in doubt.
Duble Dubbel, boil and trouble
as told by Bobby O'Keefe
For my very first batch (Noble Grape's Duble Dubbel recipe), I decided a 12-litre pot was plenty for the roughly eight litres of wort I'd be boiling. As I watched like a hawk, hoping to avoid a boil over, I couldn't stop what happened next. The moment it boiled, the wort blasted out of the pot like a volcano. The syrup was now layered all over the top and sides of a brand-new ceramic stove and the kitchen floor. The stuff actually got inside the oven door, and the glass had to be removed from the door to get it cleaned.
Fortunately, I recovered and the beer turned out really well.
Lesson learned: Buy a pot close to double what you need to boil, especially if you want to make larger batches.
Dude, where are my pyjamas?
as told by Brian Harvey and Justin Lockhart
We were finishing up brewing an IPA on a very cold February evening. It was actually the beer we enjoyed while brewing the first ever Garrison Brew-off winner. After the boil we hooked up the chiller and put it in the wort to cool it down. What we didn't realize was that the chiller was still full of water from our previous batch and it had frozen solid.
As Justin trudged through the snow to turn on the water, I waited for it to start flowing. Soon I heard a pffffft noise. Just as I looked closer...BOOM! I yelled at Justin, "Shut it off!" When the steam cleared I was soaked head to toe on a -11 degree evening.
Justin was kind enough to lend me some pyjama bottoms and a Beaver Bank tuxedo and we reconnected the hose and finished the brew.
Lesson learned: Always make sure your immersion chiller is not frozen before cold- weather brewing.
Lucky loonie Black IPA
as told by Tim Gregory
I was finishing up the boil on a black IPA for myself and was finishing up the mash on a blueberry Wit for my sister. Because I'd been busy draining the mash tun I had forgotten to put a lid on the pot with the BIPA. Just then, my sister dropped by to pay for her ingredients, with a handful of change. Somehow in transferring it to my pocket, a loonie slipped from my hand. I could see the filthy coin twirling in slow motion through the air and then, bloop! Right in the pot!
Keeping things clean is probably the most important part of brewing good beer and I knew that coin was crawling with bacteria. My only option was to get it out fast. I ran and dunked my arm in a bucket of sanitizing solution, then came back and dipped it in. I could only keep it in a few seconds before it got too hot. It probably took me five or six tries to finally find it. My arm was beet red and I'm sure I burned off a few arm hairs.
Lesson learned: Always keep the pot lid on! But the second time I brewed my Lucky Loonie Black IPA, it won a silver medal at the 2011 Canadian Amateur Brewers Association awards--- maybe if I'd added the loonie it would've won gold!