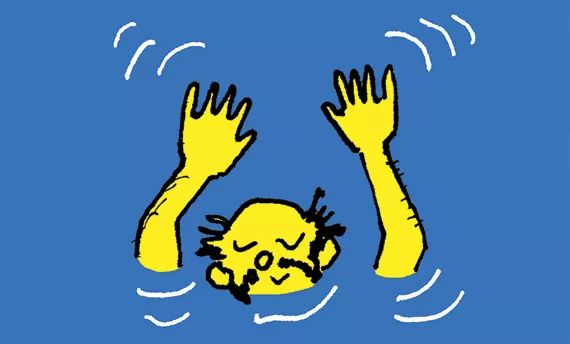 "Comics are the world's most democratic art form," says cartoonist Jonathan Rotsztain. "They are truly one of the best ways to communicate." On Tuesday at The Khyber, Rotsztain presents Holy Comics Reading, Halifax!, an evening of cartoonists and writers sharing their creations one doodle at a time.
A zine-maker since 2008, Rotsztain has been a lifelong fan of comics since Superman died via DC Comics in 1992. "So when I started making zines, they were naturally almost all comics," he says. "But I didn't consider myself a cartoonist or anything. I was just a zinester who happened to make comics."
The former Halifax familiar face left Nova Scotia in 2013 with his partner, visual artist Rebecca Roher, and both recently graduated with a Master of Fine Arts from the Centre for Cartoon Studies in Vermont. "Over the course of my MFA, I've more and more embraced my cartoonist identity, realizing that, yes, I am actually a cartoonist," he says.
In Vermont, Rotsztain contributed his daily-made Dreary Diary cartoons to the alt-weekly Seven Days: "Doing a daily comic is at the core of my practice. The more I do it, the easier all my other comics projects become. It's like I'm an athlete—I'm not!—in training."
Rotsztain's cartoons are colourful but simple, true-to-life reflections of his day-to-day experiences.
"I try to be funny and highly visual. I want to create a record of all these random thoughts and feelings," he says. So what's with the Dreary title? "It's a joke about the monotony of this self-imposed labour."
The show-and-tell will also feature a reading by Roher, whose project Mom Body has appeared in the New York Times, Bitch, The Huffington Post, Buzzfeed and more. She'll be joined by The Coast's Hey You Guys cartoonist Paul Hammond, poet Kira Daube, NSCAD instructor and political cartoonist Patrick Burgomaster, Laura Kenins of She Wants to Tell Me and artist/illustrator Kate Walchuk.
The event is free—with a fully stacked merch table—and after years in Halifax practicing their art, it also serves as Roher and Rotsztain's going away party before they move home to Toronto.
"We'll be cutting and pasting pages into individual panels and then turning those into slideshow presentations," he says. "Basically, we're going to awkwardly stand up there and read our comics to the audience. Luckily the words are right there, too! It's going to be a low-key yet highly entertaining night."
---
Holy Comics Reading, Halifax!
Tuesday, August 4, 8pm
Khyber Centre for the Arts 5521 Cornwallis Street
rotsztain.com
rebeccaroher.com