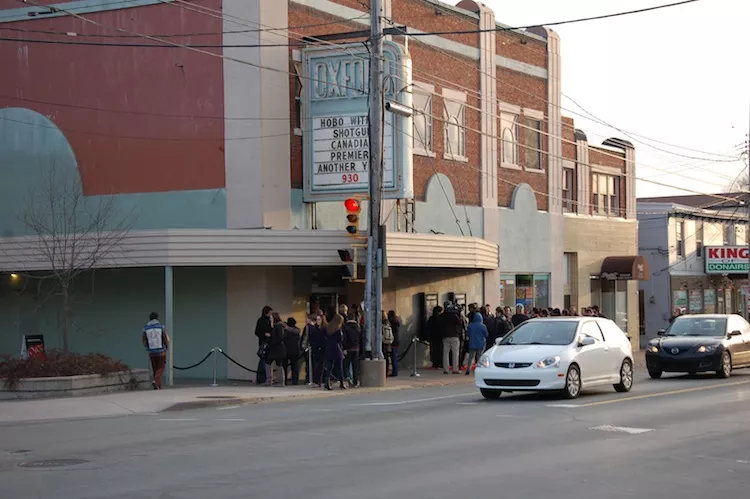 I was thrilled to be a part of the excitement last night, having visited set last year, interviewed director
Jason Eisener
and producer
Rob Cotterill
on a few occasions, plus doing the cover story in today's issue of The Coast. Today it feels like all Haligonians have a bit of our own blood in this thing. Knowing that it would be a popular show---and it said right on the ticket that admittance wasn't a guarantee---I made sure to show up by 6:30pm for the 7pm screening. However, that wasn't nearly early enough. The screening organizers,
Film Nova Scotia
, had let in a lot of people, but as usual, had reserved swaths of seats for VVIPs, people with BLUE DOTS on their tickets. Whoever the hell they are. It's a good thing a lot of these VVIPs didn't show, or the crowd of people standing outside the Oxford for half an hour might not have gotten in at all. Yes, that huddled mass included my shivering ass, but also in our number there were actual, genuine local film biz bigwigs, dancer/actor/filmmaker
Cory Bowles
,
Atlantic Film Festival
director
Lia Rinaldo
and director of
The Corridor
,
Evan Kelly
. As the rep came out repeatedly to check if we had BLUE DOTS on our tickets, and none of us did, I really felt embarrassed for the organizers. What a shit show. But we had a happy ending after all, as we all got in and joined the hooting and hollering of the
Hobo
crew, friends and family of all the people who made the film. The energy in there was awesome. Unfortunately, the audience had to sit through the self-congratulatory and way-too-long speeches by
Film Nova Scotia
's
Ann MacKenzie
and
Telefilm
's
Gord Whittaker
. I guess just like the rest of us, they have a certain proprietary attachment to this picture---and well they should---but people! Concision, please. The movie only runs for 86 minutes, and your speeches felt at least that long. Then Eisener, Cotterill and screenwriter
John Davies
introduced the film to much joy. The print and sound was great, the Oxford an ideal location to see it, with opening credits earning hoots and hollers for crew people. When the end credits rolled, the filmmakers got a standing ovation and invited all their cast present to come up to the front, which was most of them.
Even Darrell Dexter seemed to enjoy himself.