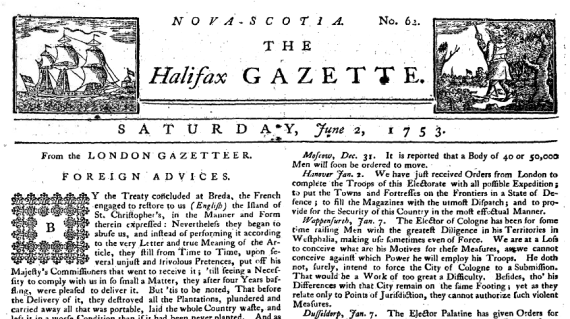 As part of its program to digitize historic newspapers, Google
has announced
that it has put the June 2, 1753 edition of the Halifax
Gazette
on line,
here
.
The Gazette was Canada's first newspaper, having begun publication on March 23, 1752. In the mid-19th century it won the contract to become the official publisher of the province. Its descendant still exists in that capacity. (Read a history of the Gazette here.)
Early newspapers were traded between cities by ship, and served mostly to inform local residents about what was happening far away. The "news" could be months old---the June 2, 1753 Gazette brings December news about the terms of the peace treaty with France, January accounts from London about a new food tax to help pay off the war debt, an April earthquake in Philadelphia and an April account from Boston of counterfeit pistareens (a Spanish coin in wide circulation in Britain's American colonies).
The issue includes a bit of Halifax news---each male resident from age 16 to 60 was called to muster, as part of the civilian militia---but surely everyone in Halifax already knew as much; that news was for consumption in Boston, Philadelphia and wherever else the ships in Halifax Harbour were bound.
Google says the digitized newspapers will be searchable. I'm still playing around with the search function, so don't yet know what level of detail the search performs for. If it gets down to a word search, in copy, that will be quite amazing, and save local researchers many, many hours in time now dedicated to looking hit-and-miss style through microfiches.