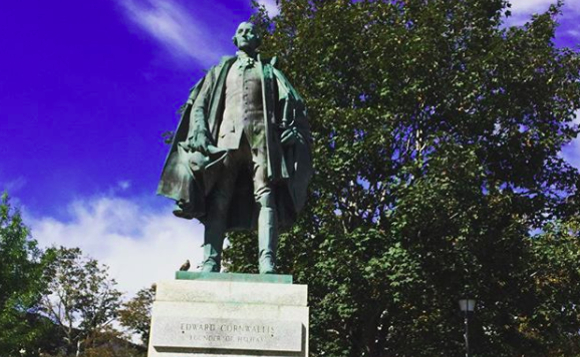 In my time living in Halifax, I can say for certain two things: Our poet laureate position is incredibly valuable and our public conversation about heritage is terrible. These two things together make me certain that we need a historian laureate.
It's hard to argue against the impact of our poet laureate. The position has given life to Halifax, steered our public conversation and even changed the minds of a stubborn councillor or two about a statue.
Cornwallis—that thing we talk about without actually talking about. The conversation about Ol 'Corny has been rough. The statue has taken on several layers of symbolic meaning in our quaint local culture-wars. Tensions boil while the city is outsourcing the conversation about the statue's fate to local Mi'kmaq authorities. I'm not here to say settlers should shove our noses into the process. I am here to say we need to find a way to actually discuss these things now and in the future as a community.
Really, who do you ask about Cornwallis? Clerks@halifax.ca will answer your questions as much as they can, your
councillor
may or may not, local Twitter can scream thoughts at you or you can complain about it in The Coast. The most one can hope for is an article or an op-ed from a local expert, but too often that kind of engagement is talking at, not with.
Discussing the statue is difficult. It requires historical context (both of the man and the sculpture), it requires untangling Indigenous rights, reconciliation, colonial wartime, identity, values, morality and worst: municipal politics. Halifax needs well-meaning people with the abilities to work out these problems and to discuss them with knowledge and authority. Halifax needs a historian laureate.
Imagine with me: A young PhD graduate with ambition and education being handed the blessing of
council
to try and untangle our shared history however they choose. Would this mean more public lectures? A podcast? A special Planifax series? Maybe a blog? Who knows! But it would mean discussion, research and centralized knowledge. We would be richer for it and we could have someone to discuss these things with authority and little worry about re-electability.
Other cities have had success doing the same. I listen to the former Edmonton laureate's podcast—
Let's Find Out
—where he navigates historical questions with citizens who contact him. I've met with Calgary's former laureate who used to wander the streets in period costume—answering questions and sharing their love for the city. We're a city with history and we have these awesome people here, so let's empower them.
Halifax is an old city with a dense history and incredible opportunities to share it amongst ourselves. Like them or not, our poet laureates have affected this city and brought new ideas to our culture about who we are and what we could be. I want that conversation for our history and I think a historian laureate could make a better Halifax.
———

Voice of the City is a platform for any and all Halifax individuals to share their diverse opinions and writings. The Coast does not necessarily endorse the views of those published. Our editors reserve the right to alter submissions for clarity, length, content and style. Want to appear in this section? Submissions can be sent to voice@thecoast.ca.