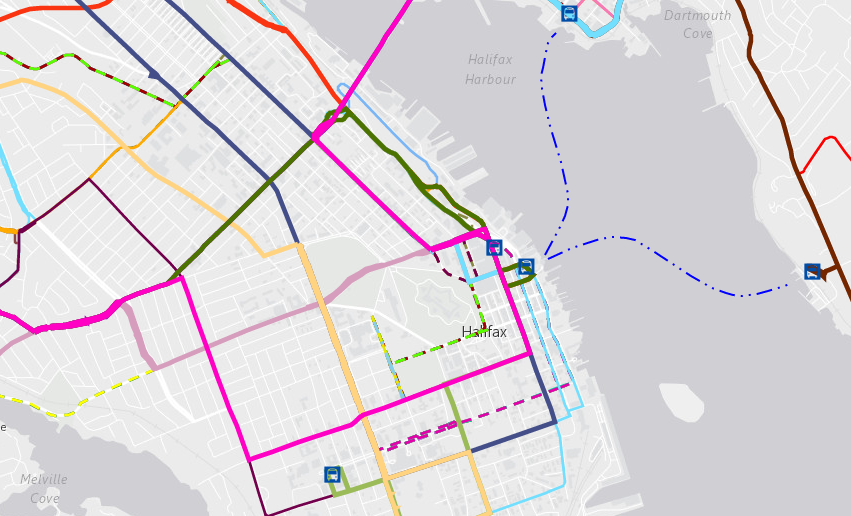 Every route in the existing Halifax Transit network is changing. Whether that helps or hinders individual riders, remains to be seen.

Today the transit authority unveiled its Moving Forward Together plan, which details the changes alongside a colourful new route map. The site unfortunately seems to be missing any sort of trip planner, which would be helpful in a model like this that heavily focuses on transfers.
According to Halifax Transit, there will be no additional buses on the road, but as we've pointed out that's not needed to provide better service. Improved frequency connections and more efficient routes will help improve everyone's bus experience, HT says.
"In the midday, evenings, and on weekends, there is a heavy focus on the transfer-based transit model. During these time periods, transit users make diverse trips to a number of varied destinations and the transfer model offers the most efficient use of resources and provides the flexibility transit users need. During rush hour, when transit demand is largely focused towards employment centres, an extra layer of single-seat routes overlays the transfer-based model in order to provide single seat trips to employment districts such as Downtown Halifax, HMC Dockyards, and Burnside Business Park."
Let's take a look at a couple of busy routes to get an idea of what changes are coming.
The new Route 1 Spring Garden travels virtually the same path as its predecessor, but with two important differences. The bus will now travel both directions on Gottingen Street (rather than taking Barrington when coming into Halifax from the bridge), and it will no longer service Oxford Street after Chebucto Road. Frequency should be every 10 minutes, switching to every 30 minutes during "late evenings."
The number 10 retains most of its previous route as well, but the new Route 10 MicMac will split into branches after the mall for which it's problematically named. One branch will serve Westphall, the other heading to Montebello. Depending on the time and your destination, those extensions will run every 10, 15, 30 or 60 minutes.
The 52 is now Route 3 Crosstown. That bus will run every 20 minutes (every 10 during rush hours) between Lacewood and the proposed Wright's Cove Terminal in Burnside. Unlike the lengthy 52, this route no longer travels to Bayers Lake or several streets previously serviced along the back of Burnside.
Apart from the new routes, there will apparently be policy changes in the hours of operations, "new guidelines for bus stop amenities" and the proposed new Windmill Road terminal. It's also planned for each Halifax Transit bus to be outfitted with an audio-visual display system to announce each upcoming stop. That's routine in other cities, and long overdue in Halifax. It will offer improved accessibility, but also help to make sure no one misses a stop on an unfamiliar route.
None of these ideas will be implemented until 2016, and even then it will be over a five-year period. In the meantime, there's plenty that could be simplified in the current proposal. Thirteen bus routes still service Barrington Street, for example. Thankfully the consultation process continues through to April. Halifax Transit wants your feedback, so now is the time to give it to them.
"We're embarking on an unprecedented overhaul to our transit system," said HR director Eddie Robar in a press release. "I encourage everyone, whether they currently ride a bus or ferry or even if they don't, to have a look at this new plan, tell us what they think, and help us make transit better."