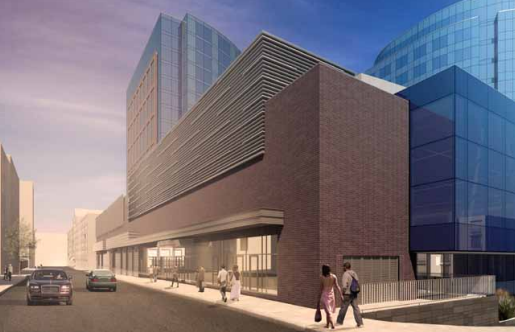 There's finally a clear picture of those design changes being proposed for the Nova Centre.
In March, the as-yet-finalized changes to the $500-million complex caught the municipality and the public by surprise when a vague description appeared on an information item that was supposed to go before HRM's Design Review Committee. That meeting was cancelled over a lack of agenda items.

Argyle Developments owner Joe Ramia has been planning for exterior design changes to the towering downtown project since September, 2015, according to the information report. But no one seemed to have any concrete details on what exactly those proposed modifications were. 


Well, now we know. The new design includes 14 alterations to multiple elements of the Nova Centre's base and tower, as listed below:
If approved, the changes would turn the Nova Centre from this:
Into this:

Speaking of the Nova Centre's design; over the weekend the Willow Tree community group posted a blog illustrating all the photo tricks those pretty architectural renderings use to sell the public on new developments (particularly the Nova Centre). Those methods include, but are not limited to, cropping out neighbouring structures, manipulating light and the kind of Photoshopping more commonly found on glossy magazine covers.
"A striking formal composition is what architects call 'the killer view': the one we'd buy on postcards. To achieve this, some liberties may be necessary. In all of the images above, we're stationed a quarter-mile away, so Nova Centre fits within a 60-degree cone of vision and doesn't appear monstrously distorted. Of course, this view wouldn't be possible without tearing down another city block in the foreground.

Architectural renderings are often composed as bird's-eye views. Who wouldn't want to be a bird, soaring through the city and looking down? Meanwhile, our human-eye view is at street level, looking up, so it's fair to ask why that viewpoint wasn't included in the renderings."
The original design for the Nova Centre was approved back in 2014, but due to the "length of time that has passed" since and the extent of these proposed modifications by Ramia, HRM staff have recommended a new substantive site plan and round of public notification is needed before the changes can be approved.

A public open house on the proposed modifications will take place Monday, Wednesday night, 7-9pm, at the Cambridge Suites (1583 Brunswick Street). The Design Review Committee will then hear a preliminary presentation for amending the Nova Centre's site plan on Thursday, April 14.