Social media saw an uproar over the weekend after a Halifax teenager was seemingly denied admission to the IWK Health Centre.
Fourteen-year-old Lily, who is developmentally disabled, was reportedly taken to the IWK Sunday while experiencing a mental health crisis. According to those tweeting at the scene, she was sent home instead of being admitted.
Lily and her mother refused to leave, instead calling on family friends for support. Several of those supporters were there as Lily was later arrested later by Halifax Police, who were called about an "unwanted person."
Security stopping us from taking pictures of them dragging a girl outside. #IWK #nspoli #helplily. pic.twitter.com/NO0UntqPax

— Matthew Spurway (@MatthewSpurway) June 7, 2015
I'm told at 3am, after 6 hrs in custody, police took Lily *back* to the IWK and she was admitted. TY @HfxRegPolice #helpLily #nspoli

— Matthew Spurway (@MatthewSpurway) June 8, 2015
Family friend Matthew Spurway says the police were "nice," trying to again get Lily admitted and sharing their own stories of the mental health system.
Halifax Police spokesperson Pierre Bourdages tells CBC Lily was brought back to the police station, and then re-arrested under the Involuntary Psychiatric Treatment Act when responding officers thought she might be a danger to herself.
The events prompted a strong reaction online, which is still ongoing under the #helpLily hashtag.
It's a crime in Halifax to seek help at a hospital for mental issues. #HelpLily #nspoli #BoldHalifax

— Blake Hebb (@nukeland) June 8, 2015
If Lily had a broken leg the response would be different. The mental health stigma needs to go. #helplily #halifax #mentalhealth

— Rita-Clare LeBlanc (@RitaClare) June 8, 2015
Services for dev't disabilities are disjointed and inconsistent. Crisis support doesn't exist. Families are suffering in silence #helpLily

— Dartmouth Charlene (@charlenegagnon) June 8, 2015
What is happening with #helplily is not an exception in the Canadian mental health system - it is the norm, especially for kids

— Anne Thériault (@anne_theriault) June 8, 2015
A jail cell is not where anyone, especially children, should have to be in order to stay safe in a mental health crisis. #HelpLily

— That girl (@middle_ladle) June 8, 2015
Lily and her mother are now back at the IWK, waiting on a new assessment. The hospital can't comment on specific patients, but it did release a statement about their patient intake process:
Providing excellent patient care is always the IWK's top priority. All patients who present at the IWK emergency department are seen and assessed by appropriate health experts including physicians and/or mental health clinicians. Following a clinical assessment, the most appropriate treatment plans are discussed with the patient and family members. Obviously these conversations are between patients and the professional staff who provide care here at the IWK. Specific information about a patient is not discussed in public.  The IWK remains, as always, dedicated to working with patients and families to meet their health care needs.
"Everyone is seen by a health care professional," says spokesperson Nick Cox, who stresses all patients are "assessed" before being offered a variety of treatments options.
"It's based on a clinical assessment by a mental health technician," Cox says. "Every patient is different."
If it's unclear, health care for those dealing with mental illness still has some chasmic gaps to cover. Lily wasn't even the only person turned away from a hospital this weekend. This post on Tumblr alleges the author's suicidal stepfather was roughly escorted out of the QEII by security after angry outbursts and then thrown to the sidewalk while handcuffed.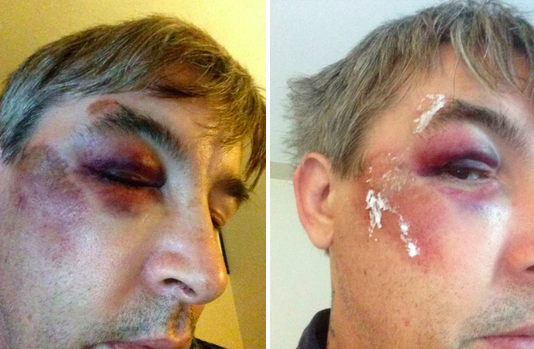 It's the kind of repeating narrative that makes some wonder if anyone has been successfully treated for a mental illness in Halifax.
I've yet to speak with Lily's mother, who's still at the hospital, but I've seen good friends dealing with the limitations of mental health treatment here. The system is—from everything I've heard—staffed largely by caring, compassionate professionals who nevertheless still smash against institutional barriers. The increased attention from Lily's case will hopefully get her the treatment the teenager needs. Fingers crossed it can also help in making things easier for the next Lily who needs help.