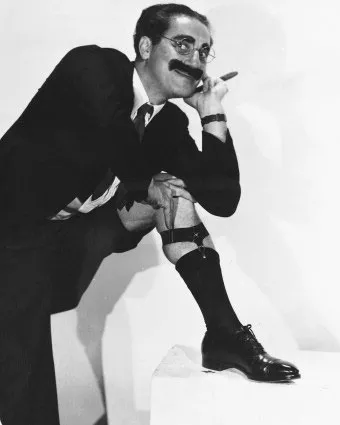 This Tuesday marks Scott Blackburn's 3rd exhibition in the Industry Room (an ongoing component of the bar's Tuesday New Music Nights that we've really enjoyed in the past.) He'll be showcasing the Groucho Marx Project, which features a bunch of musicians from Nova Scotia Music Week 2009 obscuring their good looks with Groucho's trademark moustache, glasses and giant nose disguise. It also happens that Scott's birthday is right around the corner, so after you look at his photos, you can baptize him with your beer.
Meanwhile in the front room, New Music Night features the always-puckish Myles Deck and the Fuzz, who are about to head on a big old tour with the Sleepless Nights (Myles Deck also celebrates his birthday today, so feel free to throw beverages at him too). They are joined by The Baketones, who are readying their debut album, five (yes, five) EPs of cover songs, and an upcoming tour to Ontario and Quebec. The Wax round out the bill.
Did we mention this is all free? It's tomorrow, starting at 8pm-ish. No money. No problems.
**Full disclosure: Yes, Scott Blackburn takes photos for the Coast.**