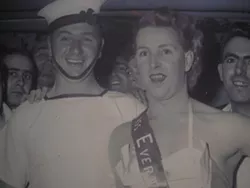 The Maritime Museum of the Atlantic
's latest exhibit,
Hello Sailor! Gay Life on the Ocean Wave
---a joint project with the
Merseyside Maritime Museum
and
National Museums Liverpool
---explores the idea of merchant and commercial ships being little slices of "gay heaven" on the open sea in the 1950s and 60s.
Dr. Jo Stanley
is the co-author of the book based on the exhibit (
Hello Sailor: The Hidden History of Gay Life at Sea
) and the guest curator. There is a lecture tonight by Dr. Jo Stanley, at 7:30pm, a pre-exhibition tomorrow at 6:30pm, and the exhibit opens Thursday, May 19 and runs until November 27.
The exhibit reveals the unique subculture created by gay men working as stewards on British ocean liners in the 1950s and 60s and transitions to Canadian perspectives with the experiences of LGBTI mariners up to the present day. Spurred on by this exhibit, the Maritime Museum of the Atlantic will have their first ever float in this year's Pride Parade.
"Back in the 1970s I had heard stories about gay seafarers and I thought, 'somebody should do something on this'" says Stanley. "I was married to a sailor and he told me about these guys who wore these stunning Hollywood-style party frocks, and were as respected as butch men."
"It was gay heaven on some of these ships," she continues. "If somebody was homophobic he would switch from that ship because he'd know he'd know he'd be out of kilter with everybody else, so, in that way, it was a pretty rosy picture."
Although it was widely accepted, it eventually became less common, and somewhat forgotten. "By the 1980s it was fading out even in England. When being openly gay became more acceptable on land, there wasn't the pressure to go to sea to create these little oases, the pull of the sea as escape wasn't as strong" says Dan Conlin, Maritime Museum of the Atlantic curator.
"It is a hidden history, which is why it feels like such an honour to be part of the process of exposing it and celebrating it." says Stanley. "The business of a ship was an exceptional space when it's a sea, anything goes for a little while."