Hello City presents: The Hello Baby Show
Tuesday, April 23, 7:30pm
The Bus Stop Theatre, 2203 Gottingen Street
$5/$10/$20

---
The improvisational troupe Hello City is named after a song about how Halifax sucks. "The same people, the same drinks and the same music, the same quicksand / I think this harbour town is waist-deep and sinkin' fast," goes the first verse, taking a pause before rolling into the first line of the chorus: "Hello city, you've found an enemy in me."
Improv comedy confuses people. It's not sketch, a group of people creating and producing scenes—Saturday Night Live—or stand-up, a single person riffing on whatever—John Mulaney. The difference is clear once you consider it: Those comedic forms, their characters and narratives and jokes, are written. Improvisation is scenes made up on the spot, spurred by audience prompts—think "Name a location."
The idea is elegant in its simplicity: Make an offer to your scene partner(s). The partner accepts, adding a new element that takes the scene somewhere else. Together you make comedy. Yes, and.
"To be a good improviser you have to listen and say yes and support your partner," is how one of the best-known, Amy Poehler, puts it in her book Yes Please, "and be honest and specific and find a game within the scene you can both play."
Hello City turns two in June. For the past year, its monthly shows at The Bus Stop Theatre have routinely sold out with a Picnicface-at-Ginger's fervour, troupe members scurrying around with chairs aloft, packing in as many people as legally allowed (knocking on 100), for a sliding scale of five to 20 dollars. (They call it Pay A Bill.) The company will be in residence at the annual Nova Scotia High School Drama Festival at the beginning of May. Its 2018 sellout Halifax Fringe Festival show The Book Club was so popular it's been invited to the Stages Theatre Festival at the end of May. There'll be another Fringe show in August.
There are seven of them. "It's easier to be brave," Poehler also writes, "when you're not alone."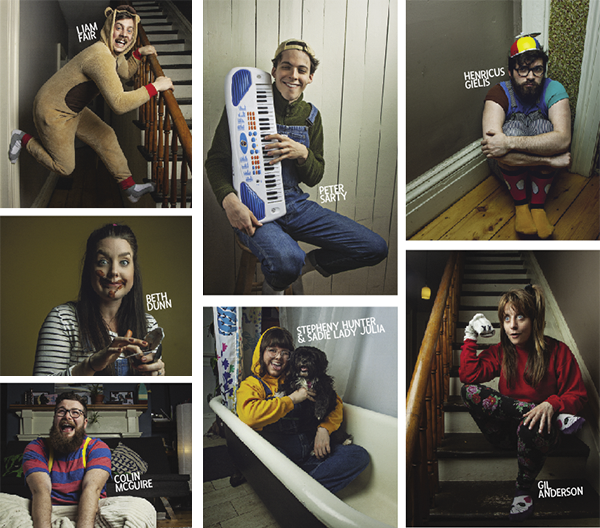 L iam Fair was not yet alive when the Barenaked Ladies released Gordon in 1992, but he loves the band and "Hello City" without irony. He loves improv even more. He pushed them together in 2017.
"I was very depressed, this city sucks," he says of his mindset then. "Like I hate it. But I want something. I wanna do improv. It's just making stuff up. Why is it so hard to play pretend? The whole idea was 'What if we got people to come in and tell stories that are from Halifax that are a part of the community?' It's a way to say cool, thank you for being a part of the city, despite the city."
He assembled a group that has stayed, more or less, the same since that first show. It includes Fair, a mischievous character wizard; his bearded best friend since high school, Colin McGuire, a presence so amiable he usually plays a dog once per show; Stepheny Hunter, a wry and versatile fan favourite; the sharp and confident Beth Dunn; Gil Anderson, fearless and physical; and the bombastic Henricus Gielis, who created the format for The Book Club. Peter Sarty, affable and gracious, was the group's first monologist—the monthly special guest who tells stories of living in Halifax, from which the improv is made—but became a member soon after. He and Hunter have been dating for longer than they've been in Hello City. (There is technically an eighth member, Simon Marshall, who has moved to Newfoundland.)
The troupe boasts extensive training—many competed in the Canadian Improv Games in high school, moving on to the likes of Second City, workshops around the country and theatre school proper. They're united in the concept of "play," the word deployed the most across four conversations (save maybe for "community").
"You gotta have that sense of play," says Gielis. "We're just playing pretend for friends, is what we're doing. That's all it is."
"How do you create something that's sustainable?" says Fair. "Get people that want to play, get people that are able to—everyone has ego, but at the end of the day, you say, 'OK, this is what my want is, but my trust in the collective is greater than my own want.'"
"We respect each other so, so much. We're all very good friends," says Dunn. "We all have a personal level with each other, which I think is so important when it comes to improv—to be able to think, to make eye contact with somebody on stage, and know what they're about to say. Or to know where the story is going."
They find each other incredibly funny. Lined up on the sides of the Bus Stop—leaning, crouching, hands clasped like the prayer emoji—they watch each other play, and they laugh. These aren't stifled church laughs either—they're appreciative, uproarious, full-bellied, joining in with the raucous audience.
"We fuck with each other a lot," says Gielis. "We for sure love to mess around with each other."
"We came together as a group because we like spending time together and doing this art form," says Hunter. "So partially, it's like, yeah, it's for the audience. But it is also for ourselves. We would be doing it whether we had, you know, 10 people in a crowd or 90. It's the same for us."
As often as possible—all have day jobs, about half are working actors who sometimes need to travel for shows—they assemble to rehearse and play. Then, once a month—usually it's the second Tuesday, this month it's the fourth—with a new special guest each time, they put up a show.
"We'll do a little warm-up and it's very silly and we're excited to see each other, it's not like 'Oh god it's your face again,'" says Sarty. "You go up there and you're just having fun with your pals."
"When you're in improv, you're in that flow state-of-mind—you're not thinking necessarily exactly where every moment's going to go, you're just in that moment," says McGuire. "And when that honesty brings about something odd and funny, and we get a reaction out of a huge room of people? It's mainly—we're playing with each other. We are toddlers on the playground, just playing with each other."
It was a slow burn that's now a full-on bonfire.
"We had an audience that was sort of willing to hear us out. And because there was no other improv in the city, people didn't know what we were. Halifax stuck with us," says Anderson. "I don't want to jinx anything"—she knocks on the table—"but we had to turn 20 people away from our last show."
As with all art disciplines, comedy in Halifax is a tough go—there's no money, there are no venues and only a handful of opportunities, if you don't make your own.
Hello City is fully invested in growing the local scene—on April Fool's Day, the troupe joined forces with another recent addition, Same Boat, for an charmingly unwieldy 20-person show called Stir Fry. Fair, Anderson, Gielis and Dunn teach drop-in improv classes at Neptune Theatre and routinely offer their students stage time at Hello City shows. Out-of-towners passing through are invited to join in. They aren't intimidated by other comedians—it's all about making more improv.
"I got super-stoked at the Same Boat show the other night, because all I wanted for, like, five years in the city was to watch someone else do improv," says Fair. "I was like, 'One improv please'"—he mimes placing money on a counter—"and they were like, 'Yes sir, come on in.'"
"And it's not threatening to us," says Anderson, "because they won't be us."
"People were ready for it—our group dynamic gelling from the get-go, it was one of those things, and I think the city was ready for it," says Sarty. "It was the perfect equation for people to be really drawn to it."
"If Hello City hadn't been as successful as it is, I don't know if we would be taking these next steps," says Hunter. "But it's because we know that there's an audience for this."
"Community is definitely a really important part of what we do, because, well, that's who we're doing it for," says McGuire. "That's where we're doing it. We get a chance to highlight so many different people in the community for really cool things, and support The Bus Stop Theatre. That means a lot to us."
"We also see value in others who are coming into the community, who come from a different background, and like, what are their minds like and how can we build?" says Dunn. "And how do you look at improv differently than I do? How can I learn from you?"
"Now there's a regular audience for this kind of thing, improv," says Gielis. "Other shows are doing their things and starting to cross-pollinate with our audiences, which is really nice."
"Hello City can be one thing—" says Hunter, "—in this vast ocean of alternative comedy," finishes Gielis.
"The city won't grow if we don't celebrate each other. It won't grow. Period," says Anderson. "We celebrate."
---
Tara Thorne is The Coast's arts editor.